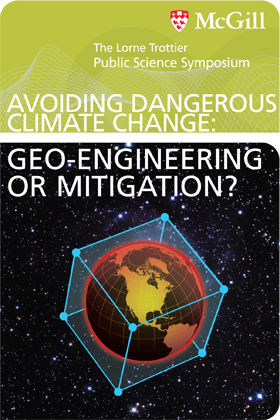 Avoiding dangerous climate change:
Geo-engineering or mitigation?
Some Scientists argue mitigation alone can no longer prevent dangerous levels of atmospheric CO2 and propose directly intervening in the climate system to counter the effects of greenhouse gas induced warming. Can we successfully manipulate the climate system to avoid dangerous climate change? Do we understand the global climate system well enough to determine the feasibility and risks involved? In this year's Trottier Symposium, climate scientists and a historian of science will discuss the scientific and social ramifications of geoengineering the climate.
McGill University is proud to host the fifth annual Lorne Trottier Public Science Symposium, made possible through the generous support of Dr. Lorne Trottier and honouring his wish "to hold a public forum to inform, inspire debate and raise public awareness on contemporary issues confronting society today".
November 19, 2009
5:00 - 7:00 p.m.
Stephen Leacock Building, Room 132
McGill University
Reception to follow
General admission - limited seating
The debate will be available via delayed webcast and taped for television.
For additional information contact:
The Symposium Office at
514-398-2852 or
via trottiersymposium.science [at] mcgill.ca (email)
Cette conférence sera prononcée en anglais et traduite simultanément en français.