Catheri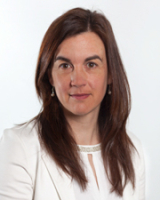 ne Roy holds a Ph.D. in Social Work since 2003. She joined the Centre for Research on Children and Families in June 2014 as Academic Associate. Previously, Catherine had already collaborated with CRCF working on the evidence-based management project (EBM). Be it as consultant or scientific professional, Catherine has gained valuable experience in the field of youth protection.
She has led many program evaluation projects and has also contributed to developing and supporting systematic reviews and evidence-based assessments in the field of social sciences while working at Institut national d'excellence en santé et en services sociaux and at Centre jeunesse de Montréal-Institut universitaire. During her master and doctoral studies, Catherine's research interests focused on teenage pregnancy, more specifically on the links between young mothers' parenting behviors and children cognitive and motor development. She now aims to pursue the study of these themes while also developing knowledge and understanding around the notion of resiliency.
See CV for all details.