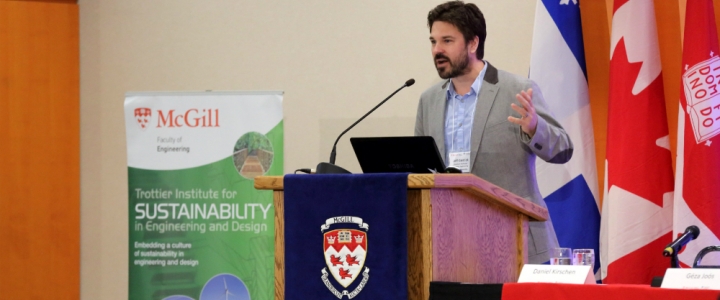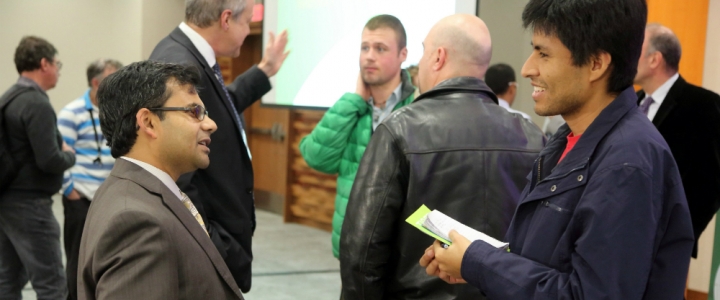 Event Overview 
This event took place in November 2014 as part of TISED's Research Workshop Program (see "Research" section to learn more). We looked at how energy storage technologies embedded within the electricity supply chain may be socially acceptable, economically viable and environmentally sound. Audience members learned about the driving and opposing forces for developing storage as part of future sustainable electric power systems. Energy storage technologies, their design and engineering were explored as a new component of a wider energy ecosystem whose sustainability needs to be secured for future generations.
Presentations & speaker information
"Value of Energy Storage", Daniel S. Kirschen, University of Washington
Video
Presentation slides

Kirschen-Value of Energy Storage
About Daniel Kirschen 
Daniel S. Kirschen
Department of Electrical Engineering, University of Washington
Close Professor of Electrical Engineering
Daniel Kirschen is the Donald W. and Ruth Mary Close Professor of Electrical Engineering at the University of Washington. His research focuses on smart grids, the integration of renewable energy sources in the grid, power system economics and power system security. Prior to joining the University of Washington, he taught for 16 years at The University of Manchester (UK). Before becoming an academic, Daniel worked for Control Data and Siemens on the development of application software for utility control centres. He holds a PhD and MS from the University of Wisconsin and an Electro-Mechanical Engineering degree from the Free University of Brussels (Belgium).
"Electricity Storage as an Integration Enabler", Géza Joós, McGill University
Video
Presentation slides

joos_electricity_storage_as_an_integration_enabler.pdf
About Géza Joós
Géza Joós
Department of Electrical and Computer Engineering, Faculty of Engineering, McGill University
Professor and NSERC/Hydro-Québec Industrial Research Chair in Distributed Generation
Géza Joós has been a Professor in the Department of Electrical and Computer Engineering, McGill University, since 2001, where he holds the NSERC/Hydro-Quebec Industrial Research Chair on the Integration of Renewable Energies and Distributed Generation into the Electric Distribution Grid and a Canada Research Chair. His research activities cover the application of high-power electronics to electric power systems and power conversion, including distributed generation fed from renewable energy resources. He previously held positions in industry (ABB Canada) and academia (Concordia University, Canada). He holds an M.Eng. and a Ph.D in Electrical Engineering from McGill University. His professional activities include consulting work in Power Electronics and Power Systems. He is active in working groups of the Institute of Electrical and Electronics Engineers (IEEE) Power and Energy Society and the Council on Large Electric Systems (CIGRE). He is a Fellow of IEEE and of the Canadian Academy of Engineering.
"Electrochemical Energy Storage", Jeff Gostick, McGill University
Video
Presentation slides

Gostick_Electrochemical Energy Storage.pdf
About Jeff Gostick
Jeff Gostick
Department of Chemical Engineering, Faculty of Engineering, McGill University
Assistant professor
Jeff Gostick is an Assistant Professor in Chemical Engineering at McGill University in Montreal.  He received his undergraduate degree from Ryerson University in Toronto in 2000 and his Master's degree from University of Waterloo in 2002.  Prior to beginning his PhD, he worked as a Research Engineer at Teck Resources Inc. on the production of zinc powder and fiber for zinc-air flow batteries and large-scale alkaline batteries.  His PhD work at the University of Waterloo focused on multiphase transport in the porous electrodes of the hydrogen fuel cell.  Upon completion of his PhD in 2009 he did post-doctoral work at Lawrence Berkeley National Lab performing X-ray tomography on porous materials using the Advanced Light Source synchrotron.  He joined the Department of Chemical Engineering at McGill University in 2010 where he runs the Porous Materials Engineering & Analysis Lab.  His current research continues to include fuel cell electrodes in collaboration with industrial partners, but has expanded to include all manner of engineered porous materials ranging from electrospun nanofiber webs for flow battery electrodes and tissue scaffolds, to nanoporous zeolite materials for carbon capture.  He is also a lead developer of the open source pore network modeling project OpenPNM. 
"California Energy Storage Procurement Targets", Joseph H. Eto, Lawrence Berkeley National Laboratory
Video
Presentation slides

 Eto_california_energy_storage_procurement_targets.pdf
About Joseph Eto

Joseph H. Eto
Lawrence Berkeley National Laboratory, Environmental Energy Technologies Division
Staff scientist
Joseph Eto is a staff scientist at the Lawrence Berkeley National Laboratory where he is the Leader of the Electricity Markets and Policy Group and the strategic advisor for the Energy Storage and Demand Resources Department. Joe also leads the program 
office for the Consortium for Electric Reliability Technology Solutions, which is a national laboratory-university-industry R&D consortium founded by LBNL, ORNL, PNNL, SNL, PSERC, and the Electric Power Group that conducts research and analysis on electricity reliability and transmission.
Joe has authored over 150 publications on electricity reliability, transmission congestion, power quality, demand response, distributed generation, energy-technology market transformation, utility integrated resource planning and demand-side management, and building energy-efficiency technologies. In 1989, he received both the Crosby Field Award for best technical paper and the Willis H. Carrier Award for best presentation by an author under the age of 32 from the American Society of Heating, Refrigeration and Air-conditioning Engineers.
Joe has served the U.S. Department of Energy on a variety of topics related to electricity reliability. In 2009 and 2006, he led coordination of technical support for preparation of the DOE National Electric Transmission Congestion Studies. In 2003, he was appointed to serve on the Electricity System Working Group of the U.S.-Canada Power Outage Task Force, which is investigating the Aug. 14 blackout. In 2001/2, he led coordination of technical support to the U.S. Department of Energy (DOE) for the preparation of the National Transmission Grid Study. Prior to this assignment, he served on the Secretary of Energy's Power Outage Study Team, which conducted independent investigations of high-profile outages that occurred during the summer of 1999.
Joe received an A.B. in philosophy of science and an M.S. in energy and resources from the University of California, Berkeley. He is a registered professional Mechanical Engineer in the State of California.
"Thermal Energy Storage in Buildings", Michel Bernier, École Polytechnique de Montréal
Video
Presentation slides

bernier_thermal_energy_storage_in_buildings.pdf
About Michel Bernier
Michel Bernier
Department of Mechanical Engineering, École Polytechnique de Montréal
Professor
Dr. Michel Bernier has been a professor at Polytechnique Montréal since 1992. He obtained his B.Eng. from Polytechnique Montréal in 1980, his M.Eng. from Carleton University in 1985 and his Ph.D. from McGill University in 1991. During his career, he also worked as a consultant in building energy engineering and as a researcher at the National Research Council of Canada. 
Professor Bernier has made significant contributions to the advancement of knowledge in the area of energy use in buildings and communities. He is an internationally recognized expert on ground-source heat pump technology and borehole thermal energy storage.
During his career he received several awards for his work, including ASHRAE's 2013 EK Campbell award for outstanding service and achievement in teaching and the 2014 Ritter von Rittinger medal, the highest international award in the air-conditioning, heating and refrigeration field.
"Implications of Economic Policies on Renewable Energy", Christopher Ragan, McGill University
Video
About Christopher Ragan
Christopher Ragan
Department of Economics, McGill University
Associate professor
Christopher Ragan is an Associate Professor in the Department of Economics at McGill University. He is a Research Fellow at the C.D. Howe Institute, from 2010-13 he held the Institute's David Dodge Chair in Monetary Policy, and for many years was a member of the Monetary Policy Council. In 2009-10, he was the Clifford Clark Visiting Economist at Finance Canada and in 2004-05 he served as Special Advisor to the Governor of the Bank of Canada.
Ragan's published research focuses mostly on the conduct of macroeconomic policy. His 2004 book, co-edited with William Watson, is called Is the Debt War Over? In 2007 he published A Canadian Priorities Agenda, co-edited with Jeremy Leonard and France St-Hilaire from the Institute for Research on Public Policy. He is the author of Economics (formerly co-authored with Richard Lipsey), which after fourteen editions is still the most widely used introductory economics textbook in Canada. Ragan also has a regular column in The Globe and Mail. Ragan teaches regularly for McKinsey & Company in its internal MBA program. He also teaches in EDHEC's Global MBA program in France. In 2007 Ragan was awarded the Noel Fieldhouse teaching prize at McGill University.
Ragan received his B.A. (Honours) in economics in 1984 from the University of Victoria and his M.A. in economics from Queen's University in 1985. He then moved to Cambridge, Massachusetts where he completed his Ph.D. in economics at M.I.T. in 1989.