Associate Professor

Mary Hunter joined the faculty at McGill in 2008 after completing her PhD at University College London. She specializes in nineteenth-century French art and visual culture, and teaches classes on modern and contemporary art. Her research projects and publications examine: the relationship between art and medicine; the role of contemporary and historical art and material culture in hospitals; theories of time; the competing claims to truth made by different media, formal practices and discourses; the formation of identities and how they pertain to sexuality, gender, race, sickness and health; the relationship between popular, artistic and scientific spectacles; the politics of looking; and the phenomenology of waiting.  Hunter's research has been funded by the Wellcome Institute for the History of Medicine, the University of London, the New York Academy of Medicine, McGill University, the Social Sciences and Humanities Research Council of Canada, and the Fonds de recherche du Québec–Société et Culture. 

Hunter's recent book, The Face of Medicine: Visualising Medical Masculinities in late Nineteenth-Century Paris (Manchester University Press, December 2015), explores why, how and where the worlds of art and medicine overlapped during the Third Republic in France through an analysis of visual representations of 3 prominent medical men: the chemist, Louis Pasteur, the neurologist, Jean-Martin Charcot, and the surgeon, Jules-Émile Péan. Through an examination of sources surrounding the production, display and receptions of the imagery surrounding these men, Hunter considers how artists and physicians worked together to create realistic representations of bodies. By examining various objects – Salon portraits, medical text books, artists' manuals, paintings, encyclopedias, doctors' letters and meeting notes, caricatures, dictionaries, novels, professional purchases, newspapers, art reviews, and, importantly, the multiple objects found in medical museums and hospitals, such as wax models, photographs, plaster casts, marble busts and drawings – Hunter explores what is at stake in the relationship between art and medical iconography.
Hunter's current book project, Waiting: Slow Time in the Impressionist Era, explores the varied and various experiences of waiting in nineteenth-century French art and culture.  Through an exploration of the phenomenology of waiting, she analyses artworks, buildings, media and events that bring to light the tensions between the slow time of waiting and the speed and efficiency of modern life.
Selected Publications: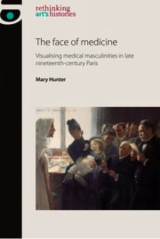 The Face of Medicine: Visualising Medical Masculinities in late Nineteenth-Century Paris (Manchester University Press, forthcoming December 2015).

UK: http://www.manchesteruniversitypress.co.uk/cgi-bin/indexer?product=97807...
USA: https://global.oup.com/academic/product/the-face-of-medicine-97807190975...
 
"Intern, Orderly, Artist, Corpse: Emerging Masculinities in Henri Gervex's Autopsy at Hôtel-Dieu", Oxford Art Journal, forthcoming 2015.

"Garçon! Waiters, Labour and Performance in Degas's The Spectators", Perspectives on Degas, ed. Kathryn Brown (Ashgate Press, forthcoming 2016).


"Mouths that Bite: Rabies, Sexuality and Pasteur's Cure," Picturing Evolution and Extinction: Regeneration and Degeneration in Modern Visual Culture, eds. Fae Brauer and Serena Keshavejee. (Cambridge Scholars Publishing, forthcoming 2016). http://www.cambridgescholars.com/picturing-evolution-and-extinction
"What I learned visiting my mom at the hospital." The Globe and Mail, September 17, 2013.
 http://www.theglobeandmail.com/life/facts-and-arguments/what-i-learned-v...
"Medical Masculinity and Sleeping Beauties:  Identity and Sexuality in Henri Gervex's Avant l'Opération," Gender Scripts in Medicine and Narrative, eds. Angela Laflen and Marcelline Block (Cambridge Scholars Publishing Collection, 2010), pp. 32-63.
"'Effroyable Réalisme': Wax, Femininity and the Madness of Realist Fantasies," RACAR, special issue on medical representation and visual culture, vol. 33, no. 1-2, 2008, pp. 43-58.

Courses:
Fall 2015:
ARTH205: Introduction to Modern Art
ARTH730: Curating Medical Spaces: Art, Objects, Ethics and Display
Past Courses include:
ARTH322: Realism and Impressionism
ARTH400/401: Art History Methods and Honours Research Paper
ARTH420: Art and Society in France, 1870-1914
ARTH440: The Body and Visual Culture (Modern and Contemporary)
ARTH 600: Advanced Pro-Seminar
ARTH675: Medical(izing) Bodies
ARTH678: Sickness and Social Deviance in Nineteenth-Century France
ARTH678: Sick and Tired: Women, Illness and Feminist Art History
ARTH675: From Abjection to the Uncanny: Critical Terms for the Visual Culture of Medicine
ARTH675/730: Curating Medical Spaces: Art, Objects, Ethics and Display
Selected Academic Supervision
Post-Doctoral fellows
Tania Woloshyn, "Luminaries of Fin-de-Siècle France: Aesthetic, Scientific, and Medical Cultures of Light, c.1880-1930", SSHRC Postdoctoral Fellowship (2010-2012).
Anne-Marie Bouchard, "La construction visuelle du capitalisme dans
la culture médiatique: l'illustration photographique dans les
quotidiens allemands, français et anglais de l'entre-deux-guerres",
SSRHC Postdoctoral Fellowship. (2012-2014)
PhD students
Sylvie Boisjoli, "Evolutionary Tensions: Images of Prehistory in Late
Nineteenth-Century France" (in progress)
Shana Cooperstein, "Reading Between the Lines: Post-Academic Drawing Pedagogy in Nineteenth-Century France" (in progress)
MA students
Courtney Books, "Ignacio Zuloaga and the Political Aesthetics of
Basque-Castilian Identity" (2012-2013)
Sylvie Boisjoli, "Anarchocommunist Investments:  Evolutionary
Cooperation and Utopian Strategies" (2010-2012)
Degane Sougal, "Masculinity and Conquest:  Illustrated History Books and French Colonial Algeria (1850)" (2009-2011)
Francois MacDonald, "Looking, Learning, Feeling: Bridging the Gap Between Popular and Medical Photography of the American Civil War (1861-5)" (2009-2011)
Ana Delic, "Joan of Arc of Kabyle: Alternative French Colonial Visions of the North African Woman" (2008-2010).