The Burney Centre at McGill University brings together archival material on the Burney family from around the world. Its holdings include microfilm, photocopies and scans of the major Burney collections at the Berg Collection (New York Public Library), the British Library and the Beinecke Library (Yale University).

The Centre is dedicated to the publication of complete, definitive scholarly editions of the journals and letters of Frances Burney (1752-1840) and the letters and memoirs of her father, the music historian Dr Charles Burney (1726-1814).
Find out more about the Burney Centre.
---
News
CFP: The Burney Journal
The Burney Journal is now accepting submissions for volume 17, to be published in late 2020, and for subsequent issues to be published annually. More information on The Burney Journal page.
Burney Centre Closed
The Burney Centre will be closed as of March 14 until further notice. We can still be reached by email, but our physical resources and office are inaccessible.
For more information on McGill and COVID-19, see their update page.
Burney Society Conference: Registration and CFP
Join us in Montreal for the Burney Society (North America)'s Biannual Conference! See registration information and the CFP on the Conferences page.
"Burney Studies: Appraising the Past, Anticipating the Future," July 3-4, 2020, Montreal, Quebec, Canada
Event: Reading with Austen: The Digital Recreation of an Eighteenth-Century Library
We launched Reading with Austen at the McGill Library on September 24.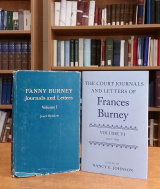 Hot off the press! The Court Journals and Letters of Frances Burney
Congratulations to editor Nancy E. Johnson on the publication of The Court Journals and Letters of Frances Burney: Volume VI: 1790-91, released on July 21.
This volume concludes the work on scholarly editions of Frances Burney's journals and letters.
Obituary: Althea Douglas
The Burney Centre mourns the passing of Althea Douglas, co-editor of many volumes of The Journals and Letters of Fanny Burney, 1791-1840, edited by Joyce Hemlow in 12 volumes, 1972-84. You can read her obituary here.
---
Image information:
Fanny Burney, by Edward Francisco Burney, at the National Portrait Gallery
Charles Burney, by Sir Joshua Reynolds, at the National Portrait Gallery
For more information about using this image or its sources:
National Portrait Gallery Creative Commons Licence