Hassan Benchekroun
Academic title(s):
Professor
Contact Information:
Office: Leacock, 316        
Phone: (514) 398-6064
Email: hassan [dot] benchekroun [at] mcgill [dot] ca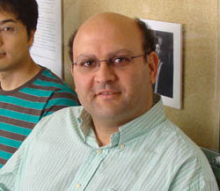 Specialization:
Natural Resource Economics, Environmental Economics, Industrial Organization, International Trade
Biography:
Research interest
Environmental and Natural Resource Economics, International Trade and Industrial Organization. More specifically: International agreements, Coalition formation, Merger theory.
Other areas of interest:
Efficiency inducing policies, Transboundary fishing games. Teaching Recent teaching includes Environmmental and natural resource economics (advanced graduate course), Trade theory (graduate and undergraduate for honors), Mathematics for economists (graduate), Microeconomic theory (advanced undergraduate for honors).
Selected publications:
Please click on the file below for a list (with links) of publications, working papers and works in progress: