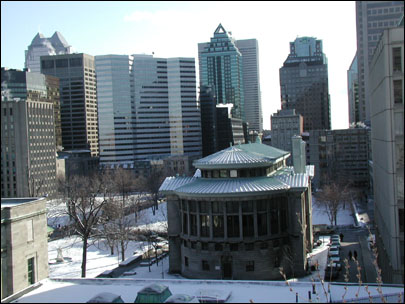 The stated mission of Building Services is to create and maintain an environment that is safe, clean, functional and pleasant.
Building Services are broken down into districts for ease of management and to facilitate communication.
Districts and District Supervisors
Building Services employs eight managers to provide services to the University Community. Four managers (District Supervisor) are responsible for one of the four quadrants of the university main campus. They each manage from 20 to 35 custodial staff in multiple buildings over multiple shifts providing 24-hours service, seven (7) days a week, 52 weeks a year.
eric.harroch [at] mcgill.ca (Eric Harroch)
Building Services Analyst
514-398-2429 or Cell: 514-267-9293
francois.delisle2 [at] mcgill.ca (François Delisle)
District Supervisor (District NW)
514-398-4505 or Cell: 514-617-4983
luc.rodrigue [at] mcgill.ca (Luc Rodrigue)
District Supervisor (District NE)
514-398-3935 or Cell: 514-977-5519
dimitrios.petropoulos [at] mcgill.ca (Dimitrios Petropoulos)
District Supervisor (District SW)
514-398-3258 or Cell: 514-977-5519
miroslav.pechousek [at] mcgill.ca (Miroslav Pechousek)
Shift Supervisor / District Supervisor (District SE)
Cell: 514-829-8104
elio.taddeo [at] mcgill.ca (Elio Taddeo)
Shift Supervisor
Cell: 514-977-6348
kendra.pomerantz [at] mcgill.ca (Kendra Pomerantz)
Sustainability, Contracts & Special Projects Supervisor
514-398-6612 or Cell: 514-515-5364
---
To reach all Supervisors email group address: BuildingServicesOperations [at] campus.mcgill.ca
Building Services – 24-hour assistance
For immediate assistance please call the Building Services 'On-Call Supervisors' at the numbers outlined below:
Monday to Friday / Lundi au Vendredi
07h00 to 15h00  
514-829-3269
15h00 to 23h00 
514-829-1753
23h00 to 07h00
514-617-6958
Saturday to Monday /Samedi au Lundi
07h00 to 07h00
514-829-1753
---
Porter Services
Porters are assigned to some of the larger buildings on Campus. They normally work from 7 am to 14:45 pm Monday to Friday. A porter is responsible to their Manager for the building(s) under his/her jurisdiction and ensures that:
The buildings are fully functional.
The buildings are clean and in good operational order.
Mail is sorted and processed on a priority basis
The buildings are secure and safe for day to day operations
Client inquiries are responded to appropriately
The District Manager is kept abreast of issues
To reach all Porters email group address: fmd_porters [at] campus.mcgill.ca
Building
Porter

Telephone / Pager
(514)

District
Arts

artsporter.fmd

[at]

mcgill.ca

(Email)

Marcel Wery
T : 398-5082
P : 423-8608
South West
Bronfman

Armstrong
3430-3434-3438 McTavish
3459-3463-3465 Peel

bronfmanporter.fmd

[at]

mcgill.ca

(Email)

Antero Branco (AM)

Giuseppe Gagliano (PM)

T : 398-5079
P : 339-6522
South West
Burnside

burnsideporter.fmd

[at]

mcgill.ca

(Email)

Gustavo Oyola

T : 398-7473
P : 869-4815

P : 339-7878

South East

Education

Ludmer (1033 Pine)
Beatty Hall
1140 Pine

educationporter.fmd [at] mcgill.ca (Email)

Mario Massa

T : 398-7497
P : 741-3704

North West
Frank Dawson Adams

Schulich Library
Macdonald Harrington

fdaporter.fmd

[at]

mcgill.ca

(Email)

Michael Noonan

T : 398-8417

P : 330-6846

South East
James Administration

adminporter.fmd

[at]

mcgill.ca

(Email)

Boguslaw Rebecki
T : 398-7481
P : 330-6845
South East
Leacock

Morrice Hall
Redpath Hall
Redpath Museum

leacockporter.fmd

[at]

mcgill.ca

(Email)

Leonardo Leone
T : 398-5081
P : 741-3719
South West

McConnell Engineering

mcconnellporter.fmd [at] mcgill.ca (Email)

Enrico Recine
T : 398-8403
P : 741-3714
South East

McIntyre Medical

Hosmer House
Hosmer Annex
Davis House
3605 Mountain 

mcintyreporter.fmd [at] mcgill.ca (Email)

Tony DiCesare

T : 398-5080
P : 339-7547

North West
McLennan Library

mclennanlibporter.fmd

[at]

mcgill.ca

(Email)

Jose Rego
T : 398-3633
P : 339-6520
South West
Rutherford

physicsporter.fmd

[at]

mcgill.ca

(Email)

Enrique Bravo
T : 398-7102
P : 339-6710
North East
Stewart Biology 

Chancellor Day Hall
Gelber Law Library
3661 Peel

stewartbioporter.fmd

[at]

mcgill.ca

(Email)

Dino Bisanti

T : 398-5078

P : 741-3722
P : 221-5571

North West
Strathcona Anatomy & Dentistry

strathconaadporter.fmd

[at]

mcgill.ca

(Email)

Eduardo Ridenti
T : 398-6691
P : 741-3698
North East
Strathcona Music


strathconamusicporter.fmd

[at]

mcgill.ca

(Email)

Fernando Antenucci
T : 398-8216
P : 741-3726
South East
For a map of the downtown campus, please click here.
Custodial Services
A service person is responsible for the cleanliness and hygiene of McGill buildings. The duties of a custodian include:
Cleaning of washrooms, classrooms and all other areas of the University's buildings.
Changing all types of lights, tubes, bulbs etc. (to a maximum height of 10').
24-Hour assistance, contact On-Call District Supervisor by pager.
Auxiliary functions
Description of regular and daily maintenance:
Washroom Cleaning: sinks / toilets / urinals, toilet paper, hand soap / towels
Recycling
Garbage
Vacuuming
Dusting / dust mop
Washing floors (damp mopping, dry scouring, wet scouring, spray buffing, and the like)
Replacement of individual light bulbs
Unlocking / locking doors (building and individual rooms)
Cleaning classrooms, offices, hallways and other areas
Salting and snow removal at entrances
Poster removal
Cleaning eating areas (cafeterias, lounges)
Minimal security and monitoring in buildings
Service Profiles
Building Services has established a cleaning frequency profile as a base service to the University Community. Employee work schedules have been created and implemented in most major buildings. Those buildings remaining will be conducted over the long-term.
Quality control and inspections are an integral part of the implementation process, the supervisors are required to inspect each employee assignment and work schedule on a regular basis providing direction, support, coaching and training to the employees concerning their work schedules. A program of implementation has been developed to facilitate this process in the short-term. Long-term plans include an automated system of reporting and follow-up.
Communication with the clients remains a high priority at all times for Building Services. The supervisors are required to communicate to the Building Directors, Deans and the various building occupants on all operational issues and changes due to absenteeism, and inform them of their impacts until normal service is restored to the areas affected.
Quality Control Program
The Department has a process of quality control assessment that is conducted in each building on a scheduled basis. Each District Supervisor has the responsibility of auditing their entire district according to set standards and guidelines. The Director(s) will conduct periodic checks of areas either with the District Supervisor or on their own as an unscheduled visit.
The audit is usually conducted with the employee responsible for the area and is the basis for action on the part of the employee. Follow-up is initiated by the District Supervisor/Inspector in a prompt fashion.
Building Directors may be informed of the scheduled visit ahead of time. Following the exercise they are advised of the results of the audit and any major remedial actions taken on their behalf.
If during an inspection, an area is found to require repairs, painting or other renovations, this will be recorded and forwarded to the proper department.