Professor
Undergraduate Program Director
Michelle Hartman is Professor of Arabic Literature at the Institute of Islamic Studies, McGill University, where she has worked since 2002. She teaches in all areas of Arabic literature and is especially interested in the way in which creative languages are used in literary texts, the connections between the politics of literature and its poetics and literature as resistance. One of her main areas of focus in her research is the politics of translation from Arabic to English, particularly the way in which theory and practice do and do not come together.
Her literary and translation research is primarily on women writers from Lebanon, Syria, and Palestine. Her book, Native Tongue, Stranger Talk (Syracuse University Press, 2014) is an anti-colonial reading of how women writers from Lebanon who write in French use Arabic words to advance messages about gender, nation, ethno-religious belonging and class in their novels. She recently edited a collection of essays, published by the MLA (Modern Language Association) in 2018, that explore the politics and ethics of teaching Arabic Literature in translation. Essays focus on both pragmatic and practical suggestions as well as more theoretical interventions into what it means to teach these works in a range of settings in English. Her most recent book, Breaking Broken English: Black Arab Solidarity and the Politics of Language (Syracuse University Press, 2014) explores how poetry and fiction by Arab and Arab American writers express literary solidarities with African Americans, and uses Black intellectual and theoretical work to probe the use of language in a series of works.
In addition to her academic research and writing on the Politics of Translation from Arabic to English, Michelle also is a literary translator. She has translated eight novels, a memoir, and a short story collection. Her commitment to connecting theory and practice of translation emerges out of this experience of translation.
For more information on these projects, please click on the publications and translations tabs above.
Publications

Books:
Breaking Broken English: Black-Arab Literary Solidarities and the Politics of Language, Syracuse University Press.
This book is an exploration of the long and complex histories of how solidarities between Black Americans and Arabs, Arab Americans and Palestinians especially are and have been expressed in literary works by Arab American authors over time. It engages poetry, fiction, and memoir by a range of authors.
"Michelle Hartman plumbs the polysemy of 'breaking' with rich analytical acuity, compelling us to read solidarity across a wide range of literary and linguistic practices."—Keith Feldman, University of California, Berkeley.
"Hartman's thought-provoking analysis of a variety of work from poetry to short fiction to novels to memoir offers an understanding of how language and racial politics have impacted the way Arab Americans position themselves in American society."—Pauline Kaldas, Hollins University.
"A superb follow up to Native Tongue, Stranger Talk, Michelle Hartman's Breaking Broken English theorizes about the linguistic, aesthetic, and political connections between Blacks and Arabs in the United States. Hartman deftly analyzes Arab American work with Black Studies as a critical lens, offering radical reading strategies that fundamentally shift how we understand Arab American letters. Breaking Broken English should be required reading for anyone seeking to understand the field." —Professor Therí Pickens, Bates College.
For more information from Syracuse University Press and to order, please click here.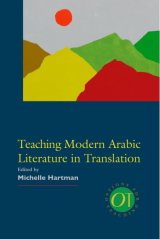 Teaching Modern Arabic Literature in Translation is available here.  For Canadian buyers please click here.
Native Tongue, Stranger Talk: The Arabic and French Literary Landscapes of Lebanon, Syracuse University Press (May 2014).
Joseph, Jesus and Job: Readings of Intertextual Rescriptings of Religious Figures in Lebanese Women's Fiction Wiesbaden: Reichert Verlag, 2002.

Recent Articles and Book Reviews
"Dreams Deferred, Translated: Radwa Ashour and Langston Hughes" in CLINA Journal 2:1 (2016)
"'My Tale's Too Long to Tell': The Locust and the Bird between South Lebanon and New York City" Journal of Arabic Literature, 46: 2-3 (2015): 168-192.
Selected Articles and Book Chapters:
"Towards Language and Resistance: A Breaking Manifesto" co-author rosalind hampton in Outsider Imperatives: Manifestos for World Thought Jason Bahbak Mohaghegh and Lucian Stone eds. London, Palgrave (2017): 115-128. 
"Translating a Literary Tradition: Arabic Literature" in the volume Teaching Translation: Programs, Courses, Pedagogies, edited by Lawrence Venuti. London/New York: Routledge, (2016): 117-125.
"A "Druze Novel" as World Literature?: Rabih Alameddine's I, the Divine" The Edinburgh Companion to the Arab Novel in English: The Politics of Anglo Arab and Arab American Literature and Culture. Ed. Nouri Gana. Edinburgh: Edinburgh University Press (2013): 339-359.
"Gender, Genre and the (Missing) Gazelle: Arab Women Writers and the Politics of Translation" Feminist Studies, 38:1 (Spring 2012): 17-49.
"An Arab Woman Writer as a Cross-Over Artist: Reconsidering the Ambivalent Legacy of Al-Khansa'," Tulsa Studies in Women's Literature, 30:1 (Spring 2011): 15-36. (appeared fall 2012)
"Teaching Naguib Mahfouz as World Literature" Approaches to Teaching Naguib Mahfouz (Eds.) Wail Hassan and Susan Muaddi Darraj. New York: Modern Language Association, 2011, 114-128.
"Grandmothers, Grape Leaves and Kahlil Gibran: Writing Race in Anthologies of Arab American Literature" Race and Arab Americans Before and After 9/11: From Invisible Citizens to Visible Subjects (Eds.) N Naber and A Jamal, Syracuse University Press, 2008, 170-203.
"'this sweet/sweet music': Jazz, Sam Cooke and Reading Arab American Literary Identities" MELUS Journal special issue on Arab American Literature, 31:4, winter 2006, 145-166
"Writing Africa(ns) in America: Adonis and Radwa Ashour From Harlem to Lady Liberty" International Journal of Middle East Studies, 37:3, Aug 2005, 397-420
"Besotted with the Bright Lights of Imperialism: Arab Subjectivity Constructed Against New York's Many Faces" Journal of Arabic Literature 35.3, Fall 2004, pp. 270-296
"The First Boat and the First Oar: Inventions of Lebanon in the Writing of Michel Chiha" (co-authored with Alessandro Olsaretti) (Radical History Review, Spring 2003, pp. 36-65)
Translations
Translations of Novels from Arabic to English: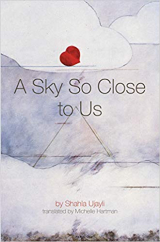 A Sky so Close to Us translation of Shahla Ujayli's Arab Booker (IPAF) prize nominated novel.
ArabLit interview with Michelle Hartman February 11, 2019
"A Syrian woman reckons with personal illness in parallel with the destruction of her homeland. Syria's ongoing civil war provides the backdrop for Ujayli's third novel (Persian Carpet, 2013, etc.) but doesn't claim center stage; indeed, one theme of this globe-trotting, fatalistic tale is that catastrophes large and small lurk even if we escape a war zone. The narrator, Joumane Badran, is a Syrian native and humanitarian worker in her 30s living in Amman, Jordan, while her father and two sisters have remained in Syria, relating grim news of bombings and power plays by the 'squalid archipelago of factions' there. Joumane herself witnesses the impact secondhand, monitoring a refugee camp in Jordan, but the bulk of the novel focuses on two more interior concerns: her budding relationship with Nasser al-Amireh, a climate expert, and a cancer diagnosis that leaves her fearing death, wracked from chemotherapy and radiation treatment. Or, in other words, she's focused on love and mortality, and her narrative sinuously moves from moments of grace to calamity and tragedy, past and present. Tales of coincidence and harsh irony abound, as when Joumane recalls that she'd met her oncologist decades earlier on family trips to Italy and that he'd gotten his degree in time to monitor his stepfather's death. That's just one case in which Ujayli ties up plotlines with a jet-black bow, but for all its concern with mortality and entropy, there's plenty of narrative and intellectual energy in the story, as when Joumane recalls her father's travels (he witnessed the 1963 March on Washington) or her friends' and sisters' love affairs, which are tinged with mythos (Pygmalion, pirates). 'The final truth is that your body is your homeland and the greatest treason is for it to betray itself,' she writes, and the novel thoughtfully maps where self, family, and country intersect. A purposefully digressive and storm-clouded narrative, appropriate for capturing a Syrian expatriate's mood."
—Kirkus Reviews
The Journey by Radwa Ashour
The Ninety-Ninth Floor by Jana Fawaz Elhassan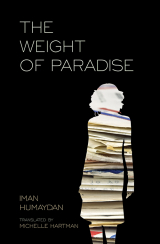 Weight of Paradise by Iman Humaydan
Beirut Noir an exciting  collection of short stories from Akashic Books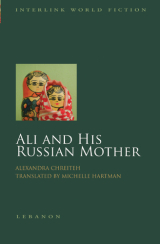 Ali and His Russian Mother by Alexandra Chreiteh. Northampton: Interlink Books, 2015 [originally, Ali wa ummuhu al-russiyah]
Alexandra Chreiteh's thoughts on being translated: http://arablit.org/2015/12/04/chreiteh/
Other Lives by Iman Humaydan. Northampton, Interlink Books (2014) [originally, Hayawat Ukhra]
Always Coca Cola by Alexandra Chreiteh. Northampton: Interlink Books, 2012. [originally, Da'iman Coca Cola]
Wild Mulberries by Iman Humaydan Younes. Northampton: Interlink Books, 2008. [originally Toot Barri]
Just Like a River by Muhammad Kamil al-Khatib (co-translated with Maher Barakat) Northampton: Interlink Books, 2002. [originally Hakadha ka'l nahar]
Courses and Supervision
Teaching and supervisory interest(s):

I teach courses on Arabic Literature, classical and modern, but particularly contemporary literature and literature written by women. The politics of language and literature, in particular the politics of translating Arabic into English is a major focus of my teaching.

I supervise graduate students in all areas of modern Arabic Literature, particularly literature written by women and work with students in translation theory and anti-colonial/ postcolonial feminist theories. My main supervisory interests are working with students engaged in thinking about language and literature, politics and poetics, and literary texts as resistance.
 
Fall 2019
Arabic Literature as World Literature
Fall 2018
ISLA 210 : Muslim Societies 

Past courses:

Undergraduate:

Poetics and Politics in Arabic Literature
Arabic Literature as World Literature
FYS: Narrations of the Modern Middle East
Islamic Civilization

Graduate/Undergraduate:

Arab Women's Literature Graduate Seminars
Approaches to Literature in the Islamic World: Modern Arabic Literature
Reading and Writing Arab and Muslim Women
Poetics of the Arab and Muslim Diaspora(s)
Arabic Literature c500-1970s
Modern Arabic Literature: Gender, Language and Nation
Modern Arabic Literature: Theory and Practice of Translation
Moments in the Modern Middle East: Historical and Literary Approaches (co-taught with L Parsons)