Upcoming events
---
Fall 2019 events to be announced soon
---
Recent events
---
2019 Hugh MacLennan Lecture | Esi Edugyan in conversation with Amanda Parris
Monday, April 29, 2019
Event summary by Cecily Lawson
Watch a video recording of the event by clicking here
The 2019 Hugh MacLennan Lecture was given by Canadian writer and Giller Prize winner Esi Edugyan. She was interviewed on stage at Moyse Hall on April 29th by CBC radio and television personality Amanda Parris whose questions focused largely on Edugyan's most recent book, Washington Black.
The book's title character, Wash, began life as a slave on a plantation in Barbados. Edugyan shared with the sellout audience the difficulty of researching a subject such as slavery, which was particularly cruel in the Caribbean and South America. She said she felt that she needed to write about the life of a slave in some detail, what their days were like, the randomness of the punishments that were meted out, the lack of control. Glossing over the brutality would dishonour those who had lived that reality. She noted that the descriptions of slavery are covered in the first quarter of the book and the reader must trust that they are there for a reason and that he or she will get through it.
Edugyan explained that she is very interested in the loss of human potential that resulted from the institution of slavery. All the talent and capacity for greatness that were never realized. She also wanted to explore the concept of what she termed the aftermath. In the case of Washington Black, this meant the journey Wash embarked upon once he was no longer a slave. Edugyan notes that he doesn't know how to be free. His notion is that it means he doesn't have to work or to answer questions. But as he goes out into the world, he realizes that it is much more complicated and the novel is about him groping his way to freedom.
Moving away from the book, Parris asked about the impact of current political events on a writer. Edugyan responded that we are living in a time of regression where so much of the progress of the civil rights movement is being undone. As a writer, she said, one sits at a desk all day long and feels guilty about not being socially active. But one of the things that fiction does is to give the reader the ability to understand the plight of someone else who is not himself or herself, and that can be transformative.
Edugyan, whose main protagonists in both her previous book, Half Blood Blues, and in Washington Black are men, confirmed that her next book will be told from the point of view of a woman. She talked about writing from the male perspective, saying that today it can be controversial to write not from your own experience. She hopes that we don't come to a place where we cannot be creative as writers. While preferring not to put limits on her material, Edugyan said that her work would always be about what it's like to be black moving through the world.
The MacLennan Lecture is sponsored by Don Walcot. It is presented by the Friends of the McGill Library in cooperation with the Blue Metropolis Literary Festival. Blue Met board member Philippe Bélanger spoke briefly at the start of the event, preceded by Friends board member Louise Dery-Goldberg. Ms Edugyan was introduced by McGill Law Professor Adelle Blackett and thanked by Christelle Tessono, president of the Black Students Network of McGill.
---
Vernissage | Visible Storage Gallery
Wednesday, March 27, 2019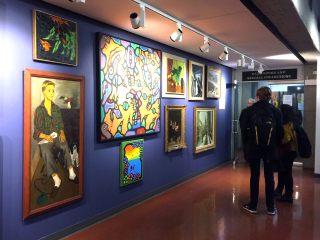 Inspired by the growing trend of "Visible Storage" spaces across museums worldwide, the gallery makes available highlights from the collection that would otherwise be in storage or on view in less accessible spaces. These highlights include works from Group of Seven members Arthur Lismer and Edwin Holgate, as well as a mesmerizing work by Anishinaabe artist Norval Morrisseau.
Together, the works on view represent a cross-section of McGill's Visual Arts Collection holdings in Canadian, Indigenous, and international art, both historical and contemporary, shown together here for the first time.
The vernissage, a collaboration between the Friends of the McGill Library and the Library's ROAAr unit, was a wonderful opportunity to take in the artworks and to learn more about them and the project as a whole. 
---
2018 Annual General Meeting & Celebration of the Friend of the Year
December 10, 2018
Event summary by Kate Williams
The 2018 Friends of the Library annual general meeting, presided over by the Chair, Ann Vroom, and held in McGill's historic Birks building, offered a brief summary of the year's activities, a succinct treasurer's report and a slate of committee members for 2018. The high point of the meeting came with the presentation of the 2018 Friend of the Year award, bestowed posthumously on an exceptional couple, Professor Blema Steinberg and her husband, Arnold Steinberg CM OQ, whose passionate attachment to learning and to McGill were an inspiration to all.
Preceded by Ann Vroom's warm introduction, the tributes by Dean of Arts Antonia Maioni, and then by Colleen Cook, Trenholme Dean of Libraries, elicited an enthusiastic reaction from the more than 70 people in attendance. On hand to hear the tributes were daughters Donna and Margot Steinberg, who had come from New York for the occasion.
Described by Dean Maioni as "an outstanding academic and author, renowned in particular for her research and application of psychological theory in analyzing the behaviour of world leaders," Professor Emerita Blema Steinberg was a double graduate of McGill and a member of the Political Science Department for over 40 years. In addition to her remarkable scholarship, which was matched by her teaching ability and her strong philanthropic spirit, Professor Steinberg also won praise from Dean Maioni for her disarming wit and thoughtful mentorship of students and colleagues "at a time when very few women held either PhDs or tenured positions in universities."
Leadership and mentorship were equally celebrated in a glowing tribute to Arnold Steinberg, chancellor of McGill, alumnus, philanthropist and lifelong learner. Remarking on his ability to navigate what she wryly called "bureaucratic waters," Dean Colleen Cook recalled him as a visionary and trusted advisor, a staunch supporter of McGill's Visual Arts Collection, and a champion whose advocacy meant so much to her and her colleagues. His clearly-expressed view that a world-class university must have a world-class library such as the one reflected in Fiat Lux , the reimagined Library of the Future project, has been a precious source of encouragement to Dean Cook.
From the accolades voiced by the speakers at the annual general meeting, it is evidently difficult to summarize what this year's Friend of the Library award recipients have done for McGill. For example, through the Blema & Arnold Family Foundation, the couple supported such noteworthy projects as the MNI Bilingual Brain initiative, the Ludmer Centre, the Global Health Fellowships, the Clinical and Surgical Education fund, Childhood Development (Medicine), and the groundbreaking Steinberg Centre for Simulation and Interactive Learning.
Presenting the 2018 Friend of the Library distinguished award to the Steinbergs' daughters Donna and Margot, Principal Suzanne Fortier concluded that their parents' legacy in "governance, support, teaching, innovation, volunteering, and generosity, continues to permeate the Library and the University." As the citation so succinctly and forcefully put it:
2018 Friends of the Year
Presented Posthumously to
Arnold Steinberg CM OQ and Professor Emerita Blema Steinberg
In recognition of their inspiring commitment and outstanding contributions to
McGill University and the McGill Library
December 10, 2018.
In response, Margot Steinberg, with her sister at her side, painted a lively and humorous picture of the intense McGill-centred conversations that occurred every evening around her parents' dinner table and thanked the Library and the University for the posthumous honour.
Following the meeting and award ceremony, members and colleagues of the Friends of the Library adjourned to the Birks Reading Room where refreshments were served amid a remarkable display of treasured items from the McGill Library's Rare Books and Special Collections, Archives, Osler and the Visual Arts collections.
---
2018 Shakespeare Lecture | Our life in theatre: questions & answers with Tom McCamus & Chick Reid
On Tuesday, November 13, a great evening of impromptu insights on the world of theatre was had as Canadian actors and couple Tom McCamus and Chick Reid delivered the 2018 Shakespeare Lecture.
The informal conversation was led by Paul Yachnin, Tomlinson Professor of Shakespeare Studies at McGill University and Cecil Rabinovitch, Immediate Past Chair, Friends of the Library Committee.
This lecture was presented by the Friends of the McGill Library in partnership with the Stratford Festival.
Generously sponsored by Hilary Pearson and Michael Sabia.
---
Tom McCamus - Bio
2018 Stratford Festival: Stephano in The Tempest, Menenius Agrippa in Coriolanus and Gennaro in Napoli Milionaria! 16th season. Tom has spent 15 seasons with the Festival appearing in roles ranging from Richard III and King John to King Arthur and Captain Hook. He has performed in many theatres in Toronto and across Canada, most recently with the Groundling Theatre Company's productions of The Winter's Tale and Measure for Measure. Tom is also fortunate to have been a part of the Canadian film and television industry for many years, appearing in such films as The Sweet Hereafter, Long Day's Journey Into Night and Room. Last summer he returned to the Shaw Festival after an absence of almost 30 years but is thrilled to be back at the Stratford Festival with his wife, Chick Reid, and their four dogs.
Chick Reid - Bio
2018 Stratford Festival: Iris in The Tempest and Adelaide Schiano in Napoli Milionaria! 13th season. Stratford: Puck, Countrywoman, Cook, Grandma, Alice, Lady Markby, Abbess, Belinda, Inez, Old Lady, Margaret, Lucetta, Lady Capulet, Calpurnia, Margery, Vivian, Kate, Andromache, Miss Lucy, Maisie Madigan, Mimi LaFlamme, Lady Squeamish, Mistress Page. Elsewhere: Theatres across Canada and the U.S., including Shaw Festival (most recently Queen Charlotte in The Madness of George III), Theatre Plus Toronto, NAC, Grand, MTC, Neptune, Westben, Tarragon, Broadway, Actors' Theatre of Louisville. Film/TV: Most recently, Fairfield Road, Everything She Ever Wanted. Awards: Proud recipient of the 2013 Max Helpmann Award; Life Member, CAEA, 2018. Online: trilliumview.com. Et cetera: Ms Reid is an Adjunct Professor, teaching Shakespeare at Queen's University, lives on a farm with her husband, Tom McCamus, and breeds Nova Scotia Duck Tolling Retrievers.
---
F.R. Scott Lecture with Dr. Bernard Shapiro: Freedom of Speech in the Ivory Tower
Thursday, September 13, 2018 
Watch a video recording of the lecture by clicking here
Event summary by Bernard Shapiro
The F.R. Scott Lecture took place on September 13, 2018 in the Moot Court at the Faculty of Law. The evening began with brief words of welcome from Friends of the McGill Library Chair Ann Vroom and Trenholme Dean of Libraries Colleen Cook, who then invited McGill Principal and Vice-Chancellor Suzanne Fortier to formally introduce the evening's speaker, Principal Emeritus Bernard Shapiro.
Dr. Shapiro started the sold-out presentation with (i) the citation of Section 2 of the Canadian Charter of Rights and Freedoms which provides that all Canadians have " . . . the freedom of thought, belief, opinion and expression . . . and (ii) the rationale for the freedom of speech as essential to democratic governance if citizens are to be able to express and expound their views. The lecture then explored both the possible limits of free speech (e.g., incitement to violence, lying and, more particularly, hate speech) as well as the importance of the responsibilities associated with this right.
With respect to the Ivory Tower, Professor Shapiro argued that freedom of speech within the university community was not so much a matter of legalities as it was of mission. If knowledge is to be produced and disseminated, dissenting voices must be not only be tolerated but welcome not only so that the university's social purpose can be realized but also so as to avoid becoming captive to what some will see as a regressive status quo.
Thus, Free Speech, modern universities and democracies seem made for each other, each one playing a role in reinforcing the other two – at least in principle, assuming, of course that when ideas are openly debated and argued those doing so, do it not so much to win as to learn.
In practice, however, freedom of speech on university campuses is under stress, and the challenges to it include: (I) the decline of democracy in the face of populism, (ii) the speed in the development and spread of technologies, (iii) the increasingly frequent attempts to silence controversial speakers on campus and (iv) the collapse of the political middle and the increasing hyper-partisanship in public life. Citizens seem increasingly divided and decided, increasingly willing to speak but unwilling to listen and, therefore hungry for fake news and misinformation.
In terms of what might be done suggestions brought forward and explored included: (i) finding ways to bring student motivation and the university's mission into sync with each other, (ii) curriculum changes that might focus more on the humanistic studies central to the formation of citizens capable of democratic self-government, (iii) adjustments by faculty to their approach to teaching that would more clearly recognize the wide differences between students in terms of the social and cultural capital which they bring to the educational encounter and (iv) the development of a "radical middle" to offset hyper-partisanship and avoid the "weaponization' of free speech seen on both the left and the right of the political spectrum.
Lucinda Chodan, Editor in Chief of the Montreal Gazette, thanked Dr. Shapiro for his thought-provoking and timely lecture.
The F.R. Scott Lecture is sponsored by the Honourable John H. Gomery and the Honourable Pierrette Rayle.
---
Hugh MacLennan Lecture | Murder for a Living with Louise Penny
Thursday, April 19, 2018
Watch a video recording of the lecture by clicking here
Event summary by Louise Dery-Goldberg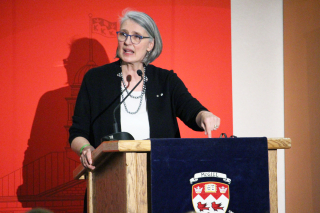 This year's Hugh MacLennan Lecture was held on April 19 and was presented in partnership with Blue Metropolis International Literary Festival. The evening got off to a wonderful start with a warm welcome from Cameron Charlebois, Blue Metropolis Chair and a witty, gracious introduction by the Dean of McGill's Faculty of Law, Robert Leckey.
New York Times bestseller Louise Penny then took to the stage and enchanted an audience of more than 450 people many of whom had read most if not all of her 13 novels. Although her books are murder mysteries, the title of her talk being « Murder for a Living » , there is much beauty, humour, kindness and joie de vivre in all her books. Everyone in attendance left understanding better the reasons why.
Louise Penny talked of her life candidly and shared how she decided to be a writer as a child of 8 years old after reading Charlotte's Web. She realized the power of the word after losing her fear of spiders because of her love for Charlotte. 
She told a rapt audience how her newly single mother used the earnings of her first salary to buy a painting she saw every day on her way to work so that her children would have beauty in their lives. 
She also spoke of the many challenges she has had to overcome and the many miracles in her life. She considers the success she has come to know as a miracle and recounts how when her first books were published no one would come to see her on her book tours or worse yet once one sole person came. Those days are long behind her now that her books are translated into 35 languages. The  world has come to know and love the fictional town of Three Pines in the Eastern Townships, and its inhabitants. She wanted to create a village that she would want to live in with people she would want to befriend. Detective Gamache who always succeeds in solving the mystery while sharing his wisdom and kindness is based on her late husband, Dr. Michael Whitehead. She spoke of the miracle of meeting him and the tremendous support and encouragement he always gave her. She spoke of the richness of their life together and the love that sustained them  during the illness that eventually took his life. 
In answer to a question from the audience about what advice she would give a would-be writer she said « Be not afraid.  Don't be concerned about getting published or whether other people like what you are writing. Just write for yourself ». This is what she herself learned from the creative people, poets, playwrights and artists she befriended when she moved to the Townships. She learned that trying and not succeeding was better than not trying at all. This is how she was able to overcome  the  fear of not succeeding that was paralyzing her when she first started out.
What we all learned from her that evening is that the « miracle » of her success has a lot to do with her talent, her intellect, her sense of humour, her generosity of spirit, her honesty and her strength. Louise Penny is a truly extraordinary woman who we hope to be reading for many years to come.
The event ended with a heartfelt and amusing thank you from Friends of the Library board member, Kate Williams, who hails from Three Pines' neighbouring village of Sutton.
This memorable lecture was made possible thanks to the generous sponsorship of Friends board member, Donald Walcot.
---
Lecture | Marriage: Is it All or Nothing? with Professor John Lydon
February 5, 2018 
Event summary by Jewel Lowenstein
In anticipation of Valentine's Day, Professor Lydon, Chair of the McGill Psychology Department, presented a lecture based on the 2017 book by Eli J. Finkel entitled The All or Nothing Marriage: How the Best Marriages Work.
Ann Vroom, Chair of The Friends of the Library, welcomed the audience which consisted mostly of young women. Did this subject scare off the men?
Given that Professor Lydon's research focuses on intimate social bonds, he was a well chosen speaker for this topic. He began by saying that working at McGill is most rewarding in terms of the level of student academic curiosity. He then turned to the subject of the talk and zeroed in on "commitment" and "intimate social bonds" from a 2018 perspective. He reminded the audience that U.S. studies do not reflect the unique "cohabitation" category so popular in Quebec versus formal marriage. He also pointed out that studies now need to include same-sex marriages.
Finkel, Professor of Psychology and Management at Northwestern University, states that marriage today is about self-expression, not so much about love. John Lydon pointed out that locally, certain factors may have contributed to that. Namely the pill and significant changes to divorce law in Canada in the 1970s. He gave examples of studies where the "expectations" of individuals differ in how much happiness they experience and the fact that they choose their partner, rather than have an arranged relationship, should reflect more happiness.
Lydon went on to define the difference between "love" – e.g. for a sibling and "being in love" with a partner. Nowadays, falling in love results in self-expansion. One's sense of self grows and one's ideal self is expanded. Lydon said formerly, meaning and purpose came from religion, whereas now this has been replaced by a relationship. One's partner helps one to discover who one is. Personal growth comes from a secure attachment figure where there is a safe haven.  All relationships face difficulties but the good must outweigh the bad. If there is trust, each partner can feel secure admitting their weaknesses.
Is marriage about self-actualization? This lecture demonstrated that much research is being done which helps to find answers to the question of what makes a successful marriage.
Cecil Rabinovitch former Chair, Friends of the Library, formally thanked Professor Lydon. She welcomed his positive approach in light of so much negativity surrounding sexual harassment prevalent in the news currently.
Chris Lyons, Head, Rare Books and Special Collections, then briefly described the Pop Up exhibits complimenting this lecture. For the month of February, the displays feature items relating to love. Included are a 1900 cookbook with cocoa recipes, a John Ramsbottom 1939 stunning work with exquisite colored plates of pink roses after Redouté's " Les Roses ",  an early Descartes volume showing the physiology of the ventricles of the heart, as well as traditional Valentine cards collected over the years.
---
---
See also: Past events