Alzheimer's disease, which represents two-thirds of dementia cases, is on the rise. With a powerful demographic shift taking place in Quebec, it's vital that we ensure that those who are hardest hit receive the training, protection and resources they need.
Caregivers are at the centre of the dementia crisis. They are the ones who, on a daily basis, make sure that their loved one—their spouse, parent, child, sibling, friend or client—has what they need to stay safe, healthy and loved.
Increasingly, more and more caregivers will put their lives on hold to take care of a loved one. They will continue to witness, and have to manage, an array of challenging behaviours and changing personalities, from outbursts to confusion, as they cope with the progression of declining cognitive and physical functions. They will also continue to deal with their own grief while navigating the health care system, and their changing family dynamics and financial situation.
Unfortunately, very few caregivers know how to navigate the system and locate the necessary resources to sustain them. Burnout is nearly inevitable. Very few people intrinsically know how to care for a person with dementia, and often lack the education and training that can diffuse difficult situations and alleviate potential dangers.
Dr. Serge Gauthier, Mrs. Claire Webster, Dr. José A. Morais
To respond to this important need, community workshops which aim to educate and support family caregivers who are looking after a loved with Alzheimer's disease or other dementia-related illnesses have been developed.  Dr. José A. Morais, Associate Professor and Director of the Division of Geriatric Medicine at McGill University, is working in collaboration with Alzheimer's Care Consultant and Facilitator Claire Webster and with the Steinberg Centre for Simulation and Interactive Learning on this initiative. Through education and empowerment, these workshops will help support caregivers and provide them with the necessary resources to turn to in the community for support.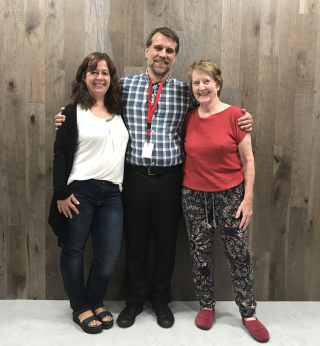 Standardized Patient Educator Loïc Simard-Villeneuve (centre) worked with standardized patients Alexandria Haber (left) and Bernie Goulem (right) to re-enact a scenario that portrays the interaction between an elderly woman afflicted with dementia and her daughter.These workshops are offered in French and English, and focus on the most important elements that caregivers need to know regarding dementia and its associated behavioural and psychological symptoms. A theory component helps family members prepare for the journey of caring for someone who has the disease, including best practices for ensuring their own well-being as caregivers. The workshops also contain a real-life scenario component in the simulated apartment to educate caregivers on how to create a safe home environment. Simulation provides the ideal venue for caregivers to gain experience and manage difficult and delicate situations such as those encountered by patients with dementia.
Caregivers—their needs, their knowledge—are at the heart of this project. For more information, please contact us by email at simadmin.med [at] mcgill.ca or by telephone at 514-398-4175
Upcoming Workshops:
Register now: 
October 18, 2019 (English workshop offered as part of Projection: A Week of Dialogue)
November 15, 2019 (French workshop)
December 20, 2019 (English workshop)
Public Lecture
On May 15, 2019, we collaborated with the City of Westmount to offer a public lecture and educate the citizens on the reality of caring for someone with dementia. 
Media Coverage:
Read the article in The Suburban, "Community workshops tackle caregiver burnout" (September 25, 2019)
Watch the feature "Supporting caregivers through education" on City News (June 9, 2019)
Read the article in The Montrealer (May 2019): 

mtlr_013_final.pdf
Listen to CBC Daybreak (February 25, 2019)
Read the interview with Claire Webster on Mitsou Magazine (February 11, 2019)
Listen to The Aaron Rand Show on CJAD 800 (December 12, 2018)
Watch "Quebec asking caregivers on how to help them help others" on CTV News (December 11, 2018)
Watch the video on CTV News (June 19, 2017)
Watch the interview with Claire Webster on CTV News (September 17, 2017)
CIUSSS "Your Health" Podcast #13 (July 27, 2017)