Since stepping into the newly created role of Associate Provost (International) in the fall of 2016, Phil Oxhorn has been hard at work developing plans to strengthen McGill's international reach. In late May, he will lead a team to participate in the Organisation for Economic Co-operation and Development (OECD) Forum in Paris. The annual event brings together high-level government representatives, CEOs, leaders from civil society and trade unions as well as prominent members of academia and media to discuss key economic and social challenges on the international agenda.
We caught up with Oxhorn to find out more about McGill's role at the OECD Forum and other international initiatives in the works.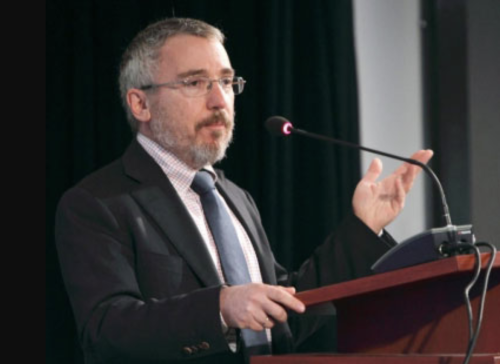 Q: You're the first person to hold the position of Associate Provost (International) at McGill, what have you been up to?
A: Since I started in this new role, I have been working with the Provost to develop a strategy for internationalizing McGill – essentially making plans for leveraging our networks and our reputation more effectively in order to increase opportunities for our students and faculty members. This was the first order of business.  After several months, the Principal and her leadership team approved our strategy. Now, comes the fun and challenging part: Implementing our plans!
Q: What's the main focus of the strategy?
A: First we aim to define a more strategic relationship with China. We need to focus our efforts to be more effective. With that in mind, we will pursue a variety of alternatives to develop new partnerships with China, building on old ones and forging new ones, with the goal of expanding McGill's presence in the region.
Q: Any specific highlights to share with regard to China?
A: Let's take Desautels as an example. The Masters in Global Manufacturing & Supply Chain Management is a double-degree program in China offered jointly by Desautels and Zhejiang University. We want to build on this existing relationship by, for example, developing new degree programs and research opportunities.
One key thing to keep in mind is that we have nearly 2000 Chinese students here at McGill, just behind the number of American students. Developing our relationships with Chinese institutions will only improve our ability to attract the best students from China to come to McGill, and open new opportunities for our students to study in China. These kinds of strategic relationships will be a model for dealing with other countries.
Q: Just how international is McGill?
We are the most international university in Canada in terms of the percentage of international students at McGill. We also have the advantage in that our international networks and student body are geographically more wide ranging and more diverse than other Canadian universities.  Our professors and students come from 150 different countries. We want to emphasize why that is important and why we're proud of it. One reason is we can learn from each other, and in this way we can internationalize the local McGill community in Montreal. Even though we live in a very cosmopolitan and tolerant place, McGill's international reach allows for a richer community.
Q: You have described this role as your dream job. Tell me why.
A: Two reasons! The first is that the position allows me to mobilize my networking skills and academic expertise to further McGill's international mission, helping to expand McGill's presence outside of Canada and building on the internationalization of our campus community.
Secondly, I enjoy working with Faculties and individual researchers across the University to help them advance their own international contacts and agendas, helping them take better advantage of the opportunities McGill's global stature can open up.
Q: You will lead a small team to attend the OECD Forum in Paris, what will you do?
A: This is the first OECD Forum McGill will participate in and they reached out to us, so this is exciting news. The OECD Forum is a gathering of civil society, and different non-profits stakeholders gathering on a variety of themes. We will be talking about sustainability and climate change related issues, highlighting the multidisciplinary research McGill is producing on an important topic.
We will endeavor to let the world know that sustainability is what McGill considers one of our strengths. In order to increase our international relationships, we need to bring our strengths to the table. One of these is sustainability, one of the grand challenges McGill has committed to tackling, and in this way share with others our expertise in this area.
Q: Can you describe what your presentation will include?
A: What we contribute will revolve around the lessons learned from Canada's experiences with Northern development and adaptation to climate change, focusing around our professors' Nigel Roulet and Subhasis Ghoshal's research. We are tasked with how to encourage stakeholder participation on the topic. This year, the OECD will take place in Paris and will focus on the environmental accords which were signed there several years ago.
Q: What would be considered a "win" at the OECD?
A: It all comes down to the networks we can build. For me a success, in the short term is having new institutions express their interest in partnering with McGill based on what they learn about our research. Ultimately, I am hoping for new memoranda of understanding, new teaching and research opportunities, reaching future students who might otherwise not consider McGill; it all overlaps
Q: What can we look forward to?
A: We are planning an International Week in 2019 here on campus to celebrate why we are so proud of our international students, faculty and networks. The focus will be on how we can make this rich diversity more meaningful. We are looking for creative ways to involve all students. Rather than assume that students from 150 countries will automatically meld into a single community by themselves, we want give them a little push.
We need to ask ourselves, "Why are we so proud?" We want to be more proactive and give it some momentum.