With waves of refugees sweeping across the world today, are there lessons to be learned from people uprooted by political turmoil more than 70 years ago?
Amanda Chalupa's PhD research focuses on a group of Polish children who were forcibly removed from their homes during World War II and deported from occupied Poland to Soviet labour camps. Many who survived migrated south, through Iran, to refugee camps in East Africa, South Africa, Lebanon, India, Mexico and New Zealand.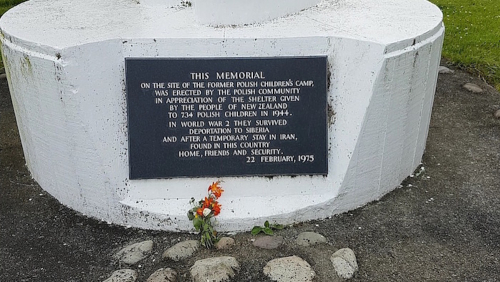 The base of the "Polish Children's Memorial" in Pahiatua, New Zealand. Photo credit: Amanda Chalupa, 2017.
Chalupa is a doctoral student in Social and Transcultural Psychiatry at McGill University. Her three-minute video about this research, Rebuilding community & the lives of child migrants, has earned her a spot among the 25 finalists in the Social Sciences and Humanities Research Council (SSHRC) of Canada's 2017 Storytellers challenge. The competition asks Canadian postsecondary students to show the real-world impact of their research.
Chalupa concentrates on the children's recovery in these refugee camps -- especially in Tanzania (then Tanganyika) and New Zealand – and on the policies and practices that prepared them for eventual resettlement. "Perhaps unique in the history of refugees, these children later went on to host joyful reunions, gathering together from whatever distant part of the world became their homes, cherishing and reliving some of their refugee camp experiences," she says.
Tales of an odyssey
Born and raised in Montreal, Chalupa first heard her grandparents tell their "stories about that whole journey – about transport by cattle cars, starvation, death, the Siberian cold, being in the gulag… but also about the magic, adventure, and fun of their refugee camps in Africa," where they lived for nearly a decade before immigrating to Montreal.
For her Master's thesis, under the supervision of Dr. Cécile Rousseau, Chalupa interviewed members of Canada's Polish community, attended reunions in Poland and the U.S., and studied documents from New Zealand, England, and Poland. For her PhD research, she has since expanded on that work by traveling to New Zealand to interview people who settled there. She has also met with hundreds of others, in South Africa, Tanzania, Australia, across Europe and the U.S., as well as with their children and grandchildren.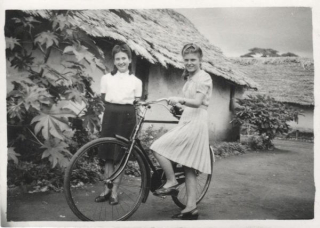 Two Polish refugees in front of their huts in Tengeru, Tanganyika. Photo credit: Jonathan Durand family archive.
Warm welcome cherished
While Chalupa continues to collect and analyze data, some key findings are already emerging:
Welcome practices can have a lasting effect on newcomers. When hundreds of Polish orphans arrived in New Zealand in 1944, for example, they were welcomed by the country's prime minister, Peter Fraser. Along their train ride to the refugee camp in Pahiatua, people from local towns came out to greet them, waving Polish and New Zealand flags. "That welcome experience is something that many continue to cherish at this point in their lives," Chalupa notes.
Refugee-camp design has the potential to help build social networks and a sense of community. In the Polish refugee camps in East Africa, for example, schools were quickly established, and social activities such as scout troops and dance groups were organized. Most of those interviewed during her research "have said that the stability they were able to have in these refugee camps helped them to lead normal lives again," Chalupa says. "A normal kind of life developed in abnormal circumstances. As one survivor notes in the video: 'when we came out of Africa, we were ready to face the world.'"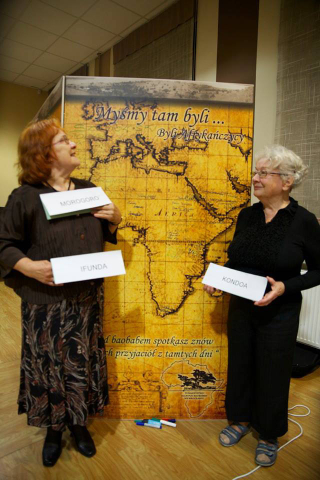 Two former Polish refugees at a reunion of the Afrykanczycy in Wroclaw, Poland. They are holding papers with the names of their refugee camps. Behind them is a poster titled "We were there" above a map of Africa, on which reunion participants wrote their names to correspond with which camp(s) they had lived in. Photo credit: Jonathan Durand, 2014.More than 70 years later, the dances the refugees learned in those camps are still among the highlights at their reunions, Chalupa says. "They have composed songs and poetry about those years, published newsletters, and written both collective memoirs and personal ones."
"Of course, I am not suggesting that everyone who went through the gulags and refugee camps are leading marvelously happy lives. Also, reunions are only attended by some of the survivors," Chalupa says. "But the fact that so many have recorded and continue to celebrate their positive experiences is important to note and try to understand. These findings are particularly relevant today when the refugee crisis is the greatest since the Second World War."
SSHRC Storytellers Showcase
The Top 25 SSHRC Storyteller finalists, representing 14 postsecondary institutions from across Canada, will compete in the Storytellers Showcase at the 2017 Congress of the Humanities and Social Sciences from May 27 to June 2 in Toronto. 
Contacts:
Amanda Chalupa
amanda.chalupa [at] mail.mcgill.ca

Chris Chipello
Media Relations Office
christopher.chipello [at] mcgill.ca
514-398-4201
Top photo: Polish refugee children in Tengeru, Tanganyika. Photo credit: Jonathan Durand family archive.