Work Study Program

New Subsidy Management System - Coming soon!
Introduction
The Work Study Program is part of need-based assistance offered by the Scholarships & Student Aid Office. Using grants from the Quebec government, as well as operating monies, Scholarships & Student Aid Office creates incentives for on-campus employers and affiliates to prioritize hiring needy students for part-time jobs. Incentives are in the form of subsidies, essentially a partial reimbursement of payroll costs.
Students demonstrate financial need by applying to Scholarships & Student Aid Office via Minerva Work Study application. If eligible, students are approved on a term-by-term basis. Employers apply, by term, for subsidy hours. Once approved, subsidies are given after-the-fact if the employer hires a Work Study eligible student into a Work Study eligible job.
Annually, approximately 950 students participate in the Work Study Program, collectively earning $3.4 million while employers receive $1 million in subsidies.
New system brings opportunities for improvement
The Scholarships & Student Aid Office, in conjunction with McGill central IT, is launching a new Work Study Subsidy Management system. Go live is slated for July/August 2020 in tandem with the new HR system Work Day (known as the "R2R Project"). We have used this opportunity to:
Clarify HR vs. Student Aid functions
Improve services and transparency to both students and employers.
Make processes more efficient for both employers and our office
Process changes expected
Here is an outline of the current vs. new processes related to the Work Study Program.
 

Current Process

New Process as of 2020/21

 

Students apply in Minerva to be Work Study eligible. Student Aid decisions are published on a roster of Student ID#s by term for all students and employers to consult, which presents confidentiality concerns.

Students apply in Minerva to be Work Study eligible. Student Aid decisions are displayed on the student's Minerva application. Students have the ability to produce a Work Study Confirmation letter to share with prospective employers, valid for 30 days and with the ability to reproduce as needed. Student privacy around financial need is maintained, as students control who they share their Work Study eligibility with.

 

 

Employers use a web form to submit individual jobs for Work Study approval. We clean up job description and determine # of approved subsidy hours by term. Employers are informed by email on a job-by-job basis. Employers have no tool to track subsidy hours allocated vs. used.

A pre-defined set of casual positions within McGill's Job Catalog are declared as Work Study-eligible (tentative):

Any job from the Admin & Support Catalog that falls within AMUSE
Only casual research assistants from the Academic Job Catalog
No jobs from the McGill Student Job Catalog

 

Employers submit request in new system for Work Study subsidy hours by term, to cover all intended Work Study-eligible jobs under a given Supervisory Org Unit. Employers use the system to receive approval, and can track subsidy hours allocated vs. used anytime.

 

Work Study job opportunities are posted on an antiquated Student Aid website. Our office controls postings going up and down. Often employers don't inform us of filled positions on a timely basis (requires the submission of paper Job Assignment form or an email). As a consequence, students are wasting time applying for jobs that are no longer available.

 

Work Study job opportunities are posted in myFuture, the platform managed by Career & Planning Services (CAPS), and where all student opportunities exist in one place. Work Study jobs will be specially flagged so WS-eligible students can identify the priority bank of jobs dedicated to them. Employers control postings going up and down so they remain current.

 

 

Employers use a 'pooled position' for all Work Study jobs for the purposes of initiating payments using POPS, McGill's One-Time Payment System. Rate of pay is not validated by HR system.

 

Employers will have to create a Job Requisition in Work Day, linked to pre-established Job Catalogs. This link will determine rate of pay and whether the job is eligible for Work Study subsidy consideration. The Job Posting can be initiated in Work Day or used to copy for posting anywhere, including myFuture.

 

 

Students are hired with paperwork and paid using POPS, McGill One-Time Payment system. Timesheets are all paper-based.

Students are hired and paid using Work Day. Students submit electronic timesheets, approved by their Supervisor online then processed for next pay cycle.

 

 

POPS processors have to remember to add the Work Study Project number otherwise the employer will not receive their WS subsidy.

 

Employers will automatically receive their Work Study subsidy if:

The job is WS-eligible in the term of pay
The student is WS-eligible in the term of pay
The employer still has WS subsidy hours left in the term of pay.

 

 

Employers have no way of knowing how many of their allocated WS subsidy hours have been used for each specific WS job, unless they try to reconcile the dollar credit on their FOAPAL.

 

Within the new Work Study Management system employers will have the ability to see their allocated subsidy hours by term, the used hours across all their WS-eligible jobs. They can see a breakdown of usage by student in order to reconcile with their FOAPAL credit dollars. Having visibility re: unused WS subsidy hours will allow employers to maximize the work hours they give their student employees, or encourage them to hire multiple students.

 

 

If an employer has more than one WS job, with subsidy hours leftover on one but exhausted on the other, they have to make a manual request to redistribute their subsidy hours.

 

Since WS subsidy hours are allocated at the Supervisor level, any WS-eligible job under that supervisor can tap into the allocated subsidy hours automatically.
Transition Timeline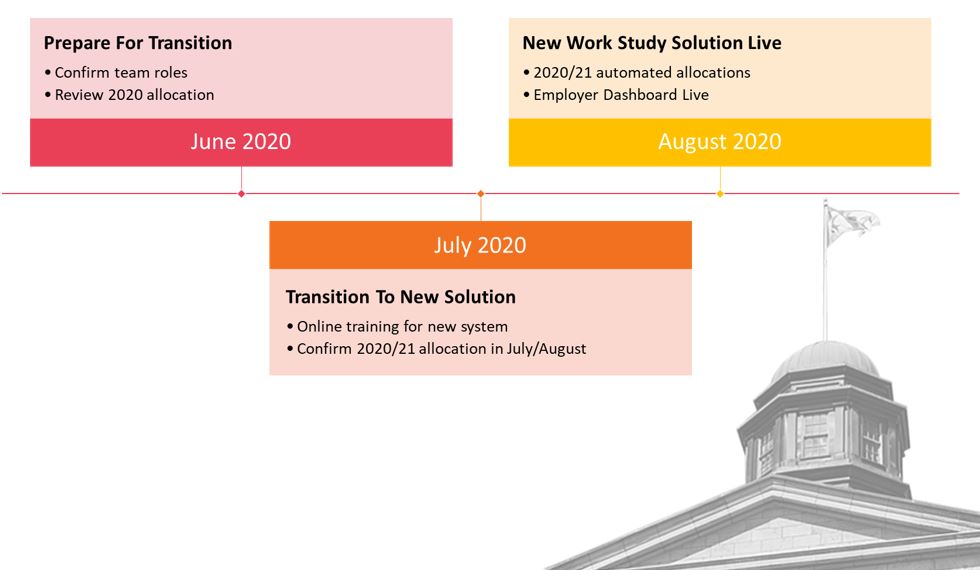 Have Questions? Contact us!
Email us at work.study [at] mcgill.ca if you have any questions regarding the Work Study Project.