---
Where to find images
Public domain (CC0) image sites
There are a number of searchable sites offering downloadable, high resolution images under a CC0 (Creative Commons Public Domain Dedication) licence. This licence means that the creator of the work has dedicated the work to the public domain by waiving all their rights to the work worldwide under copyright law. You can copy, modify, distribute and these photos, even for commercial purposes, all without asking permission, or providing attribution. To model good practice, you may wish to give credit to the creator anyhow, but it is not necessary under the terms of the licence.
Some good sites in this category are:
Pixabay - site with over 680,000 free photos, vector graphics and illustrations. Results can be filtered by colour, size, orientation and subject; images can be downloaded in various sizes. Note: The top row of search results consists of sponsored images which are not offered under the CC0 licence.
Pexels - lots of high quality, hi-res stock photos. Images can be downloaded in various sizes.
StockSnap - another option for a variety of hi-res stock photos. Each image is only offered in a single download size.
Metropolitan Museum of Art - the Met has made images of over 375,000 items in its collection available under a CC0 licence. Just make sure the "Public domain artworks" box is ticked on the left side of the page.
OpenClipart - high-quality clipart images - because sometimes you still need clipart!
Unsplash - sizeable searchable collection of frequently updated hi-res photos. Unsplash has an open licence granting "an irrevocable, nonexclusive copyright licence to download, copy, modify, distribute, perform, and use photos… for free, including for commercial purposes, without permission from or attributing the photographer or Unsplash." It no longer has an explicit use of CC0.
Other Creative Commons image resources
Science
General
---
How to attribute Creative Commons images
All CC attributions should have the same basic information:
Title of image
Creator name
Source of the image (usually in the form of a URL to image source page)
Any copyright information included with image (such as a watermark)
CC licence information (including link back to CC documentation page if possible)
Here is a photo. Below it is an ideal caption for attribution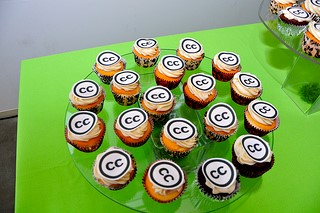 Creative Commons 10th Birthday Celebration San Francisco by tvol  (CC BY 2.0)
Because:
·         Title: "Creative Commons 10th Birthday Celebration San Francisco"
·         Author: "tvol" – linked to his profile page
·         Source: "Creative Commons 10th Birthday Celebration San Francisco" – linked to original Flickr page
·         Licence: "CC BY 2.0" – linked to license deed
How you attribute authors of the CC works will depend on whether you modify the content, if you create a derivative, if there are multiple sources, etc. 
Find out more about attribution on the CC Wiki.
Adapted from How to attribute Creative Commons photos by Foter under a CC-BY-SA license
See also Guide to Attributing Creative Commons Materials [pdf]
---
Some of this content is based on the How to give attribution page by Creative Commons and the Copyright Information: Image Citation page by Mount Royal University, both licensed under a Creative Commons Attribution – 4.0 International (CC BY 4.0).