2007 - 2008
IEEE 2007 Outstanding Chapter Award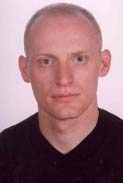 Prof. Anas HamouiProfessor Anas Hamoui has received the 2007 Outstanding Chapter Award from the IEEE Solid-State Circuit Society, as co-chair of the Montreal Chapter. The award was presented at the plenary session of the IEEE International Solid-State Circuit Conference (ISSCC). The citation for the award is "In honor of an outstanding record of consistent leadership and initiative in organizing activities that have contributed to the growth and vitality of the IEEE Solid-State Circuits Society".
---
Prof. Vincent Hayward
Vincent Hayward named IEEE Fellow
Recognizing the achievements of its members is an important part of the mission of the IEEE. Each year, following a rigorous evaluation procedure, the IEEE Fellow Committee recommends a select group of recipients for one of the Institute's most prestigious honors, elevation to IEEE Fellow.
Professor Vincent Hayward was awarded this honor, for his contributions to "Robot Manipulator Programming and the Development of Haptics Interface Technology".
---
Homecoming 2007
Joseph Mui; Photo- H. MayerAfter the Dean's breakfast at Homecoming, Professor Benoit Boulet and Mr. Joseph Mui gave approximately 25 people a very interesting tour of the Trottier building and undergraduate lab facilities. Joe Mui, who has maintained many of the labs for nearly three decades can always be counted on to give visitors a very knowledgeable overview of the many changes in technology used in our labs. Benoit Boulet received many questions about curriculum, technology and our new facilities.
Professor Benoit Boulet talks to a group touring the Trottier building during Homecoming 2007; Photo- H. MayerLater the the group were taken on a walkabout through the engineering complex as many of the visitors had not been here for thirty or more years. They visited the new Student Affairs office and met Nelly Vassileva of the Career Center, who answered many questions about Internship programs and other career planning topics.
---
Benoit Boulet appointed Director of CIM
Professor Benoit Boulet was recently appointed Director of the Centre for Intelligent Machines (CIM) for a three year term. Professor Boulet is an Associate Professor and the Associate Chair of Operations in the Department of Electrical and Computer Engineering, and is a registered professional engineer in the province of Quebec.
His research is concerned with finding practical solutions to automation and control problems in the areas of robust industrial process control, robust vehicle control, and manufacturing execution systems, and has earned him the distinguished title of William Dawson Scholar, an internal McGill program which parallels the Canada Research Chairs program.
He has authored the textbook "Fundamentals of Signals and Systems", and is also the president of Coronado Systems , a consulting firm in control and automation.
---
Sam Musallam appointed Canada Research Chair
Professor Sam Musallam is one of 16 McGill researchers newly appointed Canada Research Chairs.
The Government of Canada created the Canada Research Chairs (CRC) Program in 2000 to establish 2,000 research professorships across the country by 2008, with the aim of making Canada one of the world's top five countries for research and development.
The Neural Prosthetics Laboratory explores the possible use of Brain-machine interfaces to assist paralyzed patients by allowing them to operate computers or robots with neural activity. The goal of this research is to study brain strategies for planning muscle movements, and to investigate the ways this strategy can be used to optimally drive external devices.
---
2007 Nanotech Ventures Award
Silk Displays Inc., a McGill spin-off with key technology based on the inventions of Professors Ishiang Shih of Electrical and Computer Engineering and Mark Andrews of the Department of Chemistry has won the Nanotech Ventures Award 2007. The awards were made to top nanotechnology winners selected from over 100 early stage companies accepted in the event.
Silk Displays combine durability, performance, and low cost production of liquid crystal displays that use solid state polymer structures with embedded optical, electrical and mechanical functionality. The company's technology results in significantly cheaper production costs, while yielding thinner, lighter and more robust displays with vivid, brighter and more controllable color and ultimately promises to become a new platform technology, replacing a broad range of "dumb" glass display substrates by smart polymer structures.
---
New Associate Vice-Principal
Research and International Relations
Professor Mourad El-Gamal was recently appointed Associate Vice-Principal (Research and International Relations). Dr. El-Gamal is a William Dawson Scholar and a member of the McGill Institute for Advanced Materials (MIAM) as well as the recipient of numerous teaching awards at McGill University.
With a research background spanning a wide spectrum of technical areas and with industrial, managerial, and leadership experiences, Dr. El-Gamal was recently appointed as the Vice Principal of Research and International Relations for McGill University. His track record of evaluating research in Canada, the US, and in Europe places him comfortably in that role.
His research interests lie in micro and nano scale integrated electronics and mechanical systems, with a special interest in advanced materials. Focusing on the combination of these technologies to produce new knowledge and innovative solutions for a wide range of applications, including wireless communications systems, health care, and aerospace.
Holding one patent, having published over 60 technical articles, and two book chapters, he and his team have received several research awards, including the Strategic Microelectronics Industrial Collaboration Award of the Canadian Microelectronics Corporation.
In collaboration with an interdisciplinary team of medical and engineering researchers at the University of Calgary, the Calgary Health Region (CHR), and Carleton University, Dr. El-Gamal's group is developing the future generation of wireless medical devices, to improve patients' health care and safety. Through partnerships with several researchers in Quebec universities, his team is developing novel sensing and actuating technologies for the aerospace industry.
Dr. El-Gamal is a member of NSERC's Communications, Computers, and Components Engineering grant selection committee. He is an Associate Editor of the Institute of Electrical and Electronics Engineers (IEEE) Transactions on Circuits and Systems, a member of the executive committee of the Bipolar/BiCMOS Circuits and Technology Meeting (BCTM), and the Chair of the Emerging Technologies sub-committee of the IEEE 2007 Custom Integrated Circuits Conference (CICC). He has served on the US National Science Foundation (NSF) panel on Micro and Nano Systems, the Computing Processes and Artifacts panel and on both the Board of Directors and Executive Committee of the Regroupement Stratégique en Microélectronique du Québec (ReSMiQ), funded by the Fonds Québécois de la recherche sur la nature et les technologies (FQRNT). Dr. El-Gamal will be will be working with the Vice-Principal (Research and International Relations) to advance unified research policies and practices across the University and to advance the quality, impact and synergies of research throughout research networks at the local, regional, national and international levels.
---