Aristophanes' comedy
The Birds
Adapted and directed by Guest Director
Yvette Nolan
November 21-23, and November 28-30, 2018, at 7:30 PM
In this updated version of Aristophanes' classic comic fantasy The Birds, two men, frustrated by the modern world, arrive in the fabled land of the birds seeking freedom and a better way of life. But the men are unable to resist remaking this utopian paradise in their own image, without regard for the inhabitants who already occupy the land . . . . . .
In her playful modern retelling of this story, guest director Yvette Nolan has transformed The Birds to reflect pressing contemporary Indigenous questions about truth and reconciliation.
Combining joyful costumes, humor, dance and music, The Birds takes us on a journey celebrating the diversity of our changing society, while also emphasizing our need to connect to history and to the land in order to move forward together.
Yvette Nolan is the McGill English Department's Richler Writer-in-Residence for 2018. Nolan is a playwright, director and former artistic director of Native Earth Performing Arts Theatre in Toronto. Her theatre practice explores the modern Indigenous experience through the transformative lens of performance.
The McGill University Department of English Drama & Theatre Program is dedicated to providing students with practical theatrical experience.
---
Blood Relations
By Sharon Pollock
"Did you Lizzie? … Lizzie did you?"
April 4-6, and April 11-13, 2018 at 7:30 PM
On August 4th1892, Abigail and Andrew Borden were found dead in their home, brutally murdered by multiple hatchet blows to their heads.
The grisly crime rocked the prosperous town of Fall River, Massachusetts, to the core, and the media obsession with the case took the country by storm.
Their daughter, Lizzie Borden, was tried for the murders but was never convicted.
One night, ten years later, she decides to let her closest friend finally learn the truth about what happened that fateful day.
Sharon Pollock's Governor General's award-winning psychological mystery examines what it would take to drive a woman to an act of unimaginable violence.
The McGill University Department of English Drama & Theatre Program is dedicated to providing students with practical theatrical experience.
---
The Cradle Will Rock
November 22-24 and November 30-2, at 7:30 PM
We invite you to join us for an evening of rousing song, passionate commitment and revolutionary politics: Marc Blitzstein's Broadway sensation The Cradle Will Rock!
Four days before it was to premiere, the United States Government tried to stop the performance of this controversial musical by padlocking the theatre and surrounding it with armed guards. But the show must go on, and it did – in an unauthorized performance -- and so was born the legend of one of the greatest political plays of all time.
Blitzstein's lively mix of music, comedy, and provocative ideas excites as it inspires. The Cradle Will Rock is both a non-stop pageant of great songs and a stirring exposé of the ruthlessness of the rich, powerful and corrupt, who stand in the way of democracy and will stop at nothing to maintain their own wealth and privilege. Make no mistake: The Cradle Will Rock is firmly on the side of the 99%. The political and social issues of this play are alive and well today and our production of this fast-paced, moving and passionate piece of theatre is sure to challenge and delight.
The McGill University Department of English Drama & Theatre Program is dedicated to providing students with practical theatrical experience.
---
Richard III
March 29-31 and April 5-7, at 7:30PM
"I am determined to prove a villain / And hate the idle pleasures of these days."
Reviled and cursed, Richard III is Shakespeare's greatest anti-hero, a sinister court jester, and our charming confidante in a bloody tale of murder, betrayal and war on an epic scale.
Our production boldly re-envisions Richard III as a violent, psychedelic world of ghosts and prophesy, where murderers lurk in the shadows and mourning widows glide, haunted, through empty spaces. 
In this nightmarish theatrical vision, created by an ensemble of masked storytellers, our Richard is indeed three, merging and splintering within the unbounded landscape of his tormented imagination.  As Richard embraces treachery and evil, the limits of realism, and Richard's own selves, are shattered. 
The McGill University Department of English Drama & Theatre Program is dedicated to providing students with practical theatrical experience. The year-long Theatre Laboratory course prepares the actors, while classes in Stage, Scenery and Lighting as well as Costuming for the Theatre train students in technical theatre. Together, their work culminates in this production of Richard III.
---
The Rover
A Comedy by Aphra Behn
November 16-18 and 23-25, 2016 at 7:30 PM
The Department of English Drama and Theatre program at McGill University invites you to Aphra Behn's classic Restoration comedy of love and seduction: The Rover.
Set in Naples during Carnival season, The Rover tells the story of three young noblewomen who seek to flee from the oppression of their family in search of true love – and the costumes and disguises of Carnival give them just the chance they have been looking for. 
Meanwhile a group of riotous English cavaliers on shore-leave arrive in town looking for trouble.
When they all meet during the Carnival masquerade, the result is a sexually-charged romantic comedy of errors, one full of amorous adventures, deception, intrigue, heartbreak, laughter, danger . . .
and some very unexpected twists and turns.
Aphra Behn was England's first professional woman writer, lauded in her day for her comic genius and her scandalous sense of humor.  
The Rover is her most successful play, so popular with audiences that it enjoyed an extended run (and even a sequel), and multiple recent revivals.
We are pleased to bring you our high-spirited and fast-paced interpretation of this Restoration sensation.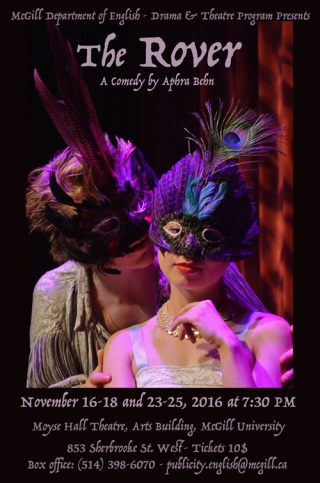 ---
In The Next Room or
THE VIBRATOR PLAY
By Sarah Ruhl
Directed by Myrna Wyatt Selkirk
In The Next Room runs November 19th – 21st & 26th – 28th, 2016 at 7:30 PM
At the dawn of electricity, more than just machines were being turned on. In The Next Room, or The Vibrator Play by Sarah Ruhl introduces us to a buttoned and corseted cast of characters who grow, become charged with energy, and begin to push against the restrictions within which they live their lives. What happens when you contain an electrical current? A sly take on the sex comedy (a genre claimed by the Greeks, the Restoration, and When Harry Met Sally), The Vibrator Play excites us with a peek into Victoriana unplugged. Doctor Givings has set up shop in the living room of his family home, having invented a vibrating solution to the plight of hysterical women. The throbbing pulse of the machine in the next room has an irresistible pull for the previously docile Mrs Givings—and audiences will be shocked to learn just how difficult it is to deny magnetic attraction. The Vibrator Play creates an explosive charge that quakes traditional foundations (if not the bed springs), showing us what bursts forth when people let each other in.
---
Blue Planet
By Andri Snær Magnason
Directed by Professor Myrna Wyatt Selkirk
April 2nd-11th, 2015
Attention all children, all those who are young at heart and all lovers of theatre, adventure and fun! Blue Planet is a play for children by the Icelandic author Andri Snær Magnason, adapted from his award-winning children's book The Story of the Blue Planet. Although the play's target spectators are children between the ages of eight and thirteen, Blue Planet will in fact enchant audiences of all ages.
As a child, Magnason was captivated by "the Icelandic highlands, the cruelty of Grimm's Fairy Tales, the weirdness of Icelandic folk tales, the Bible's message of peace, the nature documentaries of David Attenborough and Space Lego". Magnason manages to weave all of these eclectic threads seamlessly into Blue Planet. The result is a fast- paced narrative brimming with vivid characters. The play's premise: what happens when a grown-up crash-lands on a planet inhabited solely by children? Factor in that said adult is Gleesome Goodday, Make-Your-Dreams-Come-True Man and Travelling Salesman; the possibilities for mayhem are endless! After Goodday lands on the beautiful island, he captivates the children who live there with astounding miracles. Not only does he give them the power of flight – he also nails the sun to the sky above their island so that it will "always be day and always be bright". All appears to be well until two of the island's children get blown off course to the dark side of the planet. They soon realize that Goodday's intentions may not be as pure as he claims...
Bubbling beneath Blue Planet's surface is a profound global consciousness. Eschewing a moralistic tone, Magnason skillfully turns ecological concerns and ethical considerations into rich dialogue. The students of the Department of English Drama & Theatre Program's Theatre Lab, Costuming, and Stage Scenery & Lighting Classes have worked hard to craft a production rich in honesty, aliveness, creativity and butterfly powder. So what are you waiting for? We invite you to crash-land on our Blue Planet. Traverse its surface, explore its depths, share in its magic and allow your children (or the child in you) to experience the power of theatre.
Download Press Release: [English] [Français]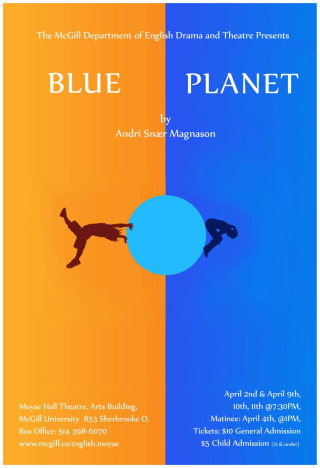 ---
How Exile Melts
Written by Dane Stewart (a former student)
Directed by Professor Patrick Neilson
Nov. 20–22 and Nov. 27-29, 2014
Download the Press Release [English] [Française]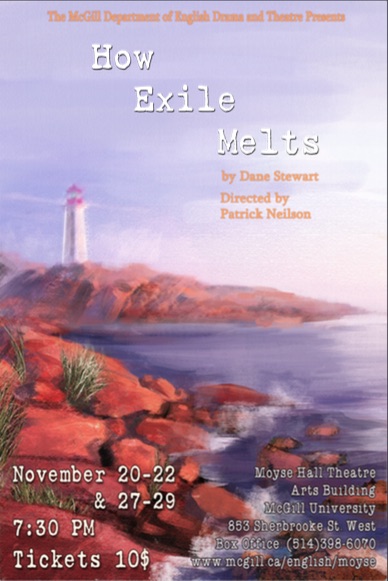 ---
Threepenny Opera
by Bertolt Brecht
Directed by Sean Carney
April 03 to 05 and April 10 to 12, 2014
You are cordially invited to celebrate the marriage of Ms. Polly Peachum, the flower of Soho and only daughter of the notorious King of the Beggars, to Captain Macheath, a.k.a. Mack the Knife, the most wanted man in London. Entertainment for the evening shall include a variety of bawdy songs, shameful caterwauling, trilling sopranos, moving ballads, earnest pleas, rousing escapes, unexpected twists, saucy brothels, dirty jokes and at least one public hanging.
Bertolt Brecht and Kurt Weill's comic masterpiece The Threepenny Opera is both a modern classic and a high-spirited mockery of the conventions of musical theatre.
It is our pleasure to bring this timeless and hilarious play to the stage of Moyse Hall for your enjoyment.
The McGill University Department of English Drama & Theatre Program is dedicated to providing students with practical theatrical experience. Costume Design by the Costuming Class under the tutelage of Catherine Bradley, Technical and Production elements by the Stage Scenery and Lighting class under the supervision of Keith Roche and Corinne Deeley. 
Download the press release English | Français
---
Cloud 9
by Caryl Churchill
Directed by Myrna Wyatt-Selkirk
November 21 to 23 and November 28 to 30
Click here to download the Poster [pdf]
---
A Midsummer Night's Dream
By William Shakespeare
Directed by Sean Carney
April 4th to Saturday April 6th, and April 11th to April 13th,2013
Click here to download the Poster [pdf]
Click play to watch a clip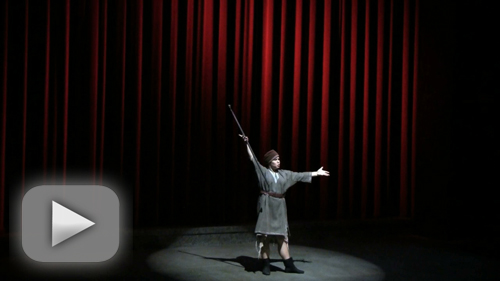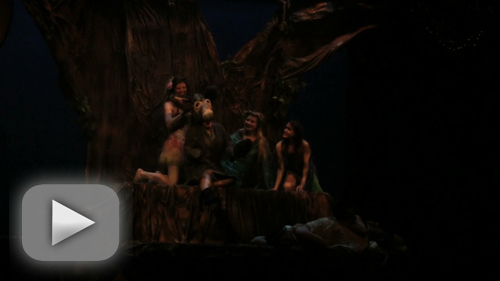 ---
The Revenger's Tragedy
By Thomas Middleton
Directed by Patrick Neilson
November 21-24 and November 29 – December 1, 2012 at 7:30
Click here to download the Press Release [pdf] 
Click here to download the Poster [pdf]
Click play to watch a clip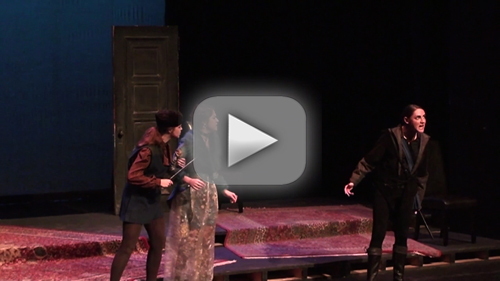 ---
A Dream Play
Written by August Strindberg
Translated by Michael Robinson
March 22-24 and 29-31, 2012 
---
All's Well That Ends Well
By William Shakespeare
An Atelier presented by the McGill University English Department's Drama & Theatre Program
November 23-25, 2011 
---
The Alchemist
By Ben Jonson
Directed by Sean Carney
Moyse Hall Theatre – McGill University Campus, Arts Building
March 24–26 and March 31–April 2, 2011

Read the press release online.
Click play to watch a clip