Getting to the Venue
Spring convocation ceremonies are held under a tent on the lower field of McGill University's Downtown Campus, with the exception of the ceremonies for the Faculty of Agricultural and Environmental Sciences, which are held at the University's Macdonald Campus. Please use Google Maps to determine the best route to access both the Downtown and Macdonald campuses.
Please click this link for Montreal's public transportation website.
Guests arriving by airplane can consult this website for information on how to get to the city from the airport.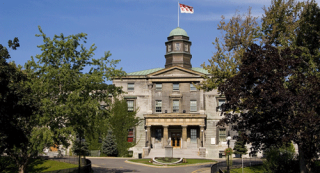 ---
Guests and Seating
Tickets are not issued for convocation ceremonies. Each student is limited to 4 guests assigned on a first-come first-served basis.
An overflow room will be available in the Leacock building (LEA132) for additional family and friends to watch the ceremony livestream on a big screen. 
---
Accessibility and Parking
Accessibility
Convocation is committed to being as accessible and barrier-free as possible for students, faculty, and guests. Please let us know if you have any accessibility needs or require accommodations to participate by filling out the this webform. If you have any additional questions about accessibility, please email convocation [at] mcgill.ca (subject: Accessibility%20at%20Convocation) .
Both the convocation tent at the Downtown Campus and the Centennial Centre at the Macdonald Campus are wheelchair-accessible. For Downtown Campus ceremonies, we advise that guests with mobility needs be taken to the Roddick Gates, the main entrance to campus location on Sherbrooke. This is the closest entrance to where the Convocation ceremony will take place. At the Roddick Gates, there will be ushers on hand to assist guests, as well as wheelchairs available. Please note, there is no parking on campus.
We also invite you to view the McGill Accessibility Guide for our Downtown Campus and Macdonald Campus for information on access to McGill buildings and accessible washrooms on campus. At the Downtown Campus, there is an accessible washroom in the convocation tent. There are accessible washrooms on the 1st floor of the Centennial Centre at the Macdonald Campus, where the ceremonies for the Faculty of Agricultural and Environmental Sciences take place.
Note: For Macdonald Campus, there is a possibility that the the Convocation ceremony may take place outdoors.
Parking
The best option is to leave your car at home and avoid the traffic in the city core. There is no parking on campus, and Montreal has many one-way streets and traffic customs you may be unfamiliar with. All street signs will be in French. 
However, if you must bring your vehicle downtown, there is metered street parking available. There are also a few parking lots close to the university's Downtown Campus. For further information, consult this site.
Other Modes of Transport
Bixi is a public bicycle sharing program originating in Montreal. A day pass costs $5, while a three-day pass costs $14. Bikes can be checked out at 30-minute intervals and returned to any of the hundreds of parking spots in the city. After returning, you can pick up another bike in a few minutes. 
Public transportation in the city is handled by the Société de transport de Montréal (STM). Fares:
$3.25 for one trip; $6.00 for two.
Unlimited evening pass (6:00pm-5:00am): $5.00.
Day pass: $10.00.
3-day pass: $18.00.
Unlimited weekend pass: $13.75.
If you are arriving from the airport on the 747 bus, you will already possess a 24-hour day metro/bus pass.