The mission of the Water Innovation Lab is to develop technologies, best practices, and to disseminate knowledge on sustainable water, food and environmental systems.
---
Research at the Water Innovation Lab is framed by the UN Sustainable Development Goals.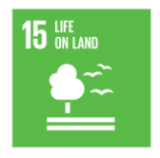 News
NSERC Science Exposed 2018 Shortlist
Science Exposed is a contest organized by NSERC and devoted exclusively to images of scientific research, in all fields of study. Candidates were to submit an image that showcases Canadian research and fosters interest in science and scientific curiosity in all audiences. Congratulatios to Naresh Gaj, Ph.D Candidate with the Water Innovation Lab, who's photo has been shortlisted in the top 20! To view all finalists and VOTE, follow this link
Symposium on Climate Change, Agriculture, Water and Livelihoods
From left to right: Dr. Ross Alter, Eduardo Mansur, Dr. Chandra Madramootoo, Dr. Bruce Currie-Alder and Dr. Kenneth StrzepekOn April 4th (2018), the Water Innovation Lab organized a symposium in conjunction with with the Global Framework for Water Scarcity in Agriculture (WASAG) and hosted experts from the FAO, MIT and IDRC to discuss the relationships between climate change, agriculture, water and livelihoods. The presentations can be found here while the symposium proceedings can be found below:

McGill WASAG Proceedings
JPondE Wins Third in Dobson Cup's Small/Medium Enterprise Track
February 28th, 2017
Okenna Obi-Njoku (left) & Samuel IhuomaThe McGill Dobson Cup, the university's flagship startup competition, has announced this year's winners  and among them are Brace's own Samuel Ihuoma and his business partner Okenna Obi-Njoku (pictured left), who earned third place in the small-medium enterprise track with their food company named JPondE. This startup produces, processes and delivers African Catfish (Clarias gariepinus) products mainly for African Cuisine in Canada. These catfish products are delivered fresh, smoked and dried, or mashed.
This valuable seed money will help JPondE bring African catfish to market and enhance Montreal's African cuisine. Congratulations!
Students Receive Chandra Madramootoo Scholarship
November 8th, 2017
(From left to right) Sandrine St-Pierre-Lepage, Chandra Madramootoo, Jade Corriveau Established in 2015 in honour of Professor Chandra Madramootoo, BSc(AgrEng) 1977, MSc 1981, PhD 1985, by colleagues and friends, to thank him for his services and recognize his many accomplishments during his tenure as Dean of the Faculty of Agricultural and Environmental Sciences from 2005 to 2015. Awarded by the Faculty of Agricultural and Environmental Sciences Scholarships Committee to one or more outstanding students who have completed at least one year of undergraduate studies in the Faculty on the basis of academic merit. Preference will be given to students who have demonstrated outstanding leadership and community engagement.
Two U2 students, Jade Corriveau (Dietetics) and Sandrine St-Pierre-Lepage (Animal Production and Professional Agrology) were presented with the Chandra Madramootoo Scholarship this fall. The image is also available here. Congratulations! 
Water Innovation Lab Students Receive Scholarships
November 6th, 2017
(From left to right) Aidan De Sena, Kosoluchukwu Ekwunife, Chandra Madramootoo, and Samuel IhuomaThe following 3 Ph.D students with the Water Innovation Lab have received scholarships for their respective research pursuits and academic merit: (as pictured) Aidan De Sena, Kosoluchukwu Ekwunife, and Samuel Ihuoma. The image is also available here, and student profiles are available here
Congratulations to all the recipients!
World Food Day Panel Event
October 16th, 2017
Vimlendra Sharan, director of the FAO office for North America, and Jean Lebel, President of the IDRC, were both hosted at Mac Campus on World Food Day to speak on behalf of the 2017 State of Food Security and Nutrition FAO report, drawing out the the Nexus between Conflict, Food Security and Nutrition. They were joined by Arlette Saint Ville, a post-doc in Food Security, and Ana Portillo, an undergraduate student in Food Security, for an interactive panel spanning topics ranging from building resilience in refugee camps to political corruption to gaps in the value chain of humanitarian aid. The panel entertained lengthy discussion and, from it, a more nuanced understanding of how conflict and migration tie into issues of food insecurity and vulnerability. A recording of the panel is available here, and pictures are available here. 
Press Release on Agricultural Greenhouse Gas Emissions Research
June 12th, 2017 - Macdonald-Stewart Building MS2-022 (Faculty Lounge)
Two McGill-led projects, one of which managed by Dr. Chandra Madarmootoo, intend to investigate novel ways in which emissions can be reduced through improved water and biosolids management. The funding is being provided under the Agricultural Greenhouse Gases Program, which supports projects that will create technologies, practices and processes that can be adopted by farmers to mitigate greenhouse gas emissions. Dr. Madramootoo's project will receive more than $1.6 million to study the effects of different water management systems in Eastern Canada. The project aims to provide information on water-management practices that reduce greenhouse gas emissions while increasing agricultural productivity. Follow links to the Press release and Project description.