Research Seminars in Rehabilitation Science
The School of Physical & Occupational Therapy (SPOT) hosts regular research seminars where faculty and invited guest lecturers present their latest work and findings.
Past seminars presented at the School for the Centre for Continuing Medical Education (CME) of McGill University are available for offline viewing on the internet, here.
For further information, please contact Melanie Banina, PhD,  researchcoordinator.spot [at] mcgill.ca (SPOT Research Coordinator.)
Current Academic Year Research Seminars


Dr. Elizabeth Teel
Parental Stress and Clinical Recovery Following Pediatric Concussion: A Mixed-Methods Study
Wednesday May 21st, 12:00- 1:00 pm
Davis D3, 3654 Sir William Osler
Dr. Teel joined the School of Physical and Occupational Therapy as a Postdoctoral Fellow in September 2017 after graduating from the Pennsylvania State University with a Master's Degree in August 2013 and the University of North Carolina at Chapel Hill in May 2017 with her PhD. 
---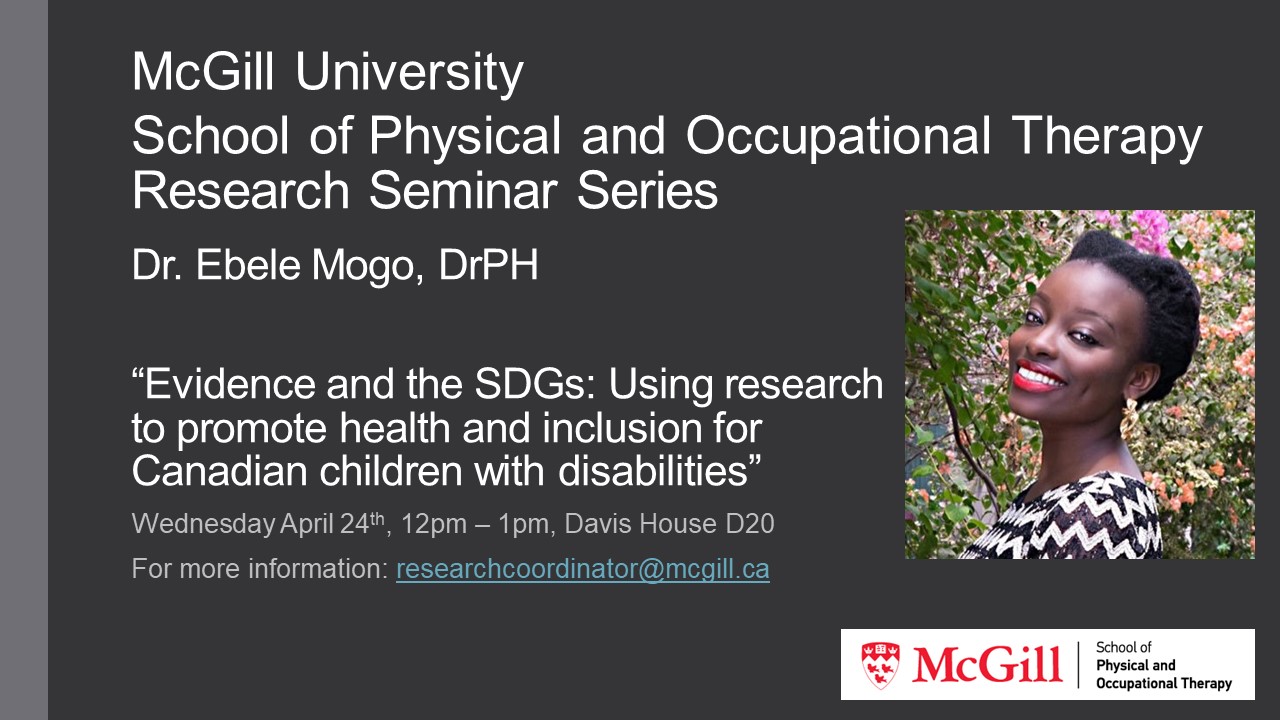 Ebele Mogo, PhD. 
Evidence and the SDGs: Using research to promote health and inclusion for Canadian children with disabilities
Wednesday, April 24th, 12pm-1pm
Davis House D20,  3654 Sir William Osler 
More information, please contact researchcoordinator [at] mcgill.ca.
Srikanth Reddy, PhD
'International Health Regulations Compliance in India: The Politics of Global Health Security'
Wednesday October 17th, 12pm
Hosmer House H202, 3630 Sir William Osler
For more information: researchcoordinator.spot [at] mcgill.ca
---
Martine Levesque, PhD
'Community participation in health and wellness planning in an Indigenous context'
Monday September 10th, 12pm
Davis House D20, 3654 Sir William Osler
For more information: researchcoordinator.spot [at] mcgill.ca
---
Daniele Piscitelli, PhD
'Stability as a feature of motor control: New perspectives for neurorehab'
Wednesday June 27th, 12pm
Hosmer House H202, 3630 Sir William Osler
For more information: researchcoordinator.spot [at] mcgill.ca
---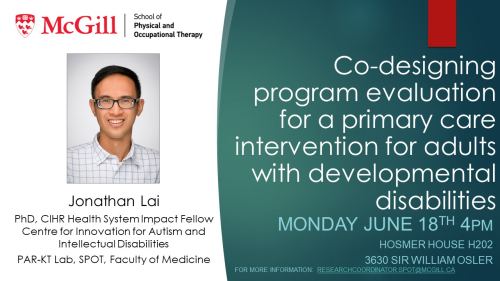 Jonathan Lai, PhD
'Co-designing program evaluation for a primary care intervention for adults with developmental disabilities'
Monday June 18th, 4pm
Hosmer House H202, 3630 Sir William Osler
For more information: researchcoordinator.spot [at] mcgill.ca
---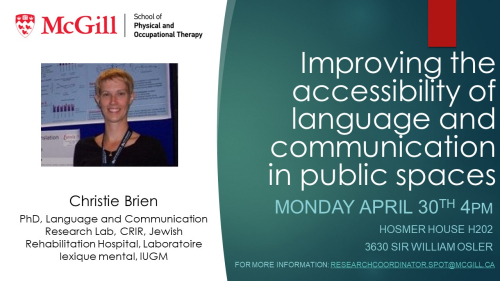 ---
Dr. Nathan C. Hall is an Associate Professor in the Department of Educational and Counselling Psychology, Director of the Achievement Motivation and Emotion Research Group (www.ame1.net), and VP Communications for the McGill Association of University Teachers (MAUT). Dr. Hall's research program as funded by Canadian, U.S., and German granting agencies examines how both students and educators in K-12 and post-secondary education internationally maintain their motivation, performance, and well-being in response to academic and personal challenges.
---
There is a tendency for healthcare curricula to draw from the arts and humanities when needing to direct students' attention to the "whole persons" for whom they will care: evidence of the strength of the human spirit, for instance, or the diversity of human expression are but some of the qualities heralded of artistic works shown to future medical and rehabilitation professionals. While useful in terms of reminding students that patients' identities extend well beyond their health conditions, such an approach only represents a small portion of what the arts and humanities can contribute to healthcare education: for instance, a more critical understanding of how the cultures of illness, health, and care are consolidated through diverse practices of linguistic, visual and media-based representation. Through pointed examples drawn from my research and practice at the intersection of arts and health over the past decade, my presentation will focus on further practical potentials for an arts- and humanities-based healthcare curriculum: the development of students' clinical reasoning skills, their increased visual and media literacy, an amelioration in their communication and listening skills, and a better understanding of how professional as well as patient identities are historically and culturally constructed.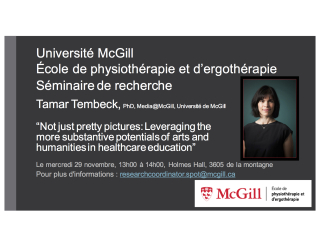 ---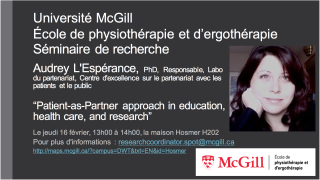 16 fév 2017 - Pre. L'Espérance
Although patient-centered approaches have contributed to significant advances in care and to treatments that more fully respect patients' preferences, values, and personal experiences, the reality is that health care professionals still hold a monopoly on the role of healer. 
Patients live with their conditions every day and are experts when it comes to their own experiences of illness; this expertise should be welcomed, valued, and fostered by other members of the care team. 
The patient-as-partner approach embodies the ideal of making the patient a full member of the health care team, a true partner in his or her care. 
The presentation will uncover this innovative approach to patient care, including the conceptual framework used in its development and the main achievements of patient partners in education, health care, and research. 
L'Espérance February 16 2017
---
​
1 déc 2016 - Prof. Varpio: Données eléctro
Dec 1 2016 - Prof. Varpio: e-Records
---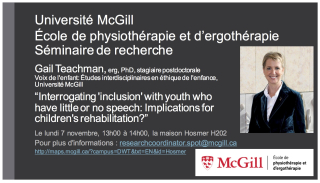 Teachman 7 novembre 2016
Teachman November 7 2016
---
Agbakoba June 16 2016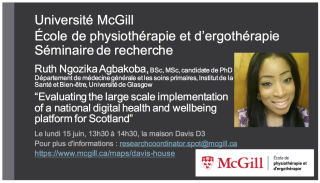 Agbakoba 16 juin 2016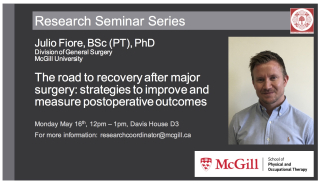 Fiore May 16 2016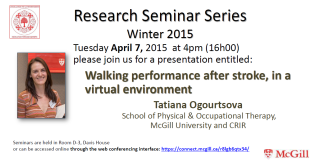 Ogourtsova April 7 2015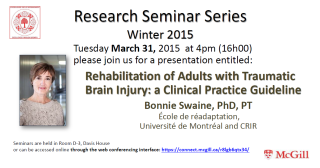 Swaine March 31 2015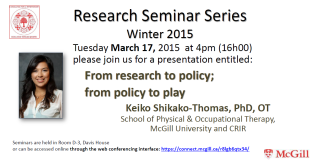 Shikako-Thomas March 17 2015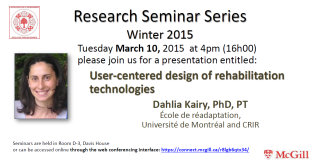 Kairy March 10 2015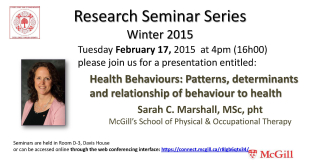 Marshall Feb 17 2015
Michaud Feb 10 2015
Excellence through Growth