The Department of Social Studies of Medicine would like to congratulate Dr. Alberto Cambrosio on being awarded a new 4-year CIHR grant entitled " Reshaping the cancer clinic: Genomics-driven clinical trials and the evanescent boundary between research and treatment" (nominated PI: Alberto Cambrosio, in collaboration with Peter Keating, Mark Basik, and Pascale Bourret)
---
Andrea Tone put together at TED-Ed lesson about Frances Kelsey, who was able to prevent a massive national public health tragedy by refusing to approve thalidomide. Watch it here
---
George Weisz presented the opening keynote address at the meeting Healthcare before Welfare States: 2nd International Workshop
Charles University, Prague, 8-9 March 2018.
---
The Palgrave Handbook of the History of Surgery, edited by Thomas Schlich, has been published.
This handbook covers the technical, social and cultural history of surgery. It reflects the state of the art and suggests directions for future research. Written by 26 experts from 6 countries, the chapters discuss the essential topics of the field (such as anaesthesia, wound infection, instruments, specialization), specific domains areas (for example, cancer surgery, transplants, animals, war), but also innovative themes (women, popular culture, nursing, clinical trials) and make connections to other areas of historical research (such as the history of emotions, art, architecture, colonial history). 
---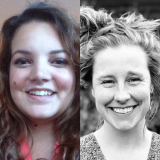 Congratulations to Laurie Denyer and Alina Geampana our recipients of the 2017 Margaret Lock Prize!
---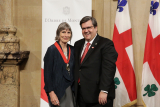 At Montreal's City Hall on May 16th 2017, Dr. Margaret Lock was named a Commander of the Ordre de Montréal for 2016. 
---
SSoM Chair Annmarie Adams was announced as the recipient of the Royal Architectural Institute of Canada 2017 President's Medal for Media in Architecture
---
SSoM Affiliate member Noemi Tousignant  co-edited the book Traces of the Future: An Archaeology of Medicinal Science in Africa
---
The Lancet has published a paper on patient choice and the history of minimally invasive surgery by Thomas Schlich and Cynthia Tang. 
---
Thomas Schlich is giving this years's Kocher Lecture at the 26th Bern Surgery Symposium on November 4, 2016
---
​
In November 2016, Banting Fellow Alexandra Bacopoulos-Viau will be giving an invited lecture at NYC's Weill-Cornell Medical College on "Trauma and the 'Narrative Turn': Critical Perspectives".
---
Professor Dr. Andrea Tone presented her talk, "Spies and lies - Cold war science, the CIA, and the case against Ewen Cameron" , for the Cutting Edge Lectures in Science at the Redpath Museum on September 15, 2016. 
---
Associate Professor Dr. Tobias Rees has published a book titled Plastic Reason: An Anthropology of Brain Science in Embryogenetic Terms.
Throughout the twentieth century, neuronal researchers knew the adult human brain to be a thoroughly fixed and immutable cellular structure, devoid of any developmental potential. Plastic Reason is a study of the efforts of a few Parisian neurobiologists to overturn this rigid conception of the central nervous system by showing that basic embryogenetic processes—most spectacularly the emergence of new cellular tissue in the form of new neurons, axons, dendrites, and synapses—continue in the mature brain.
http://www.ucpress.edu/book.php?isbn=9780520288133