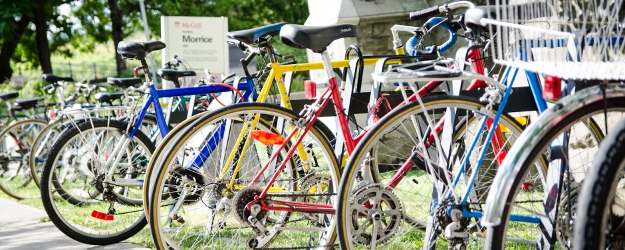 McGill community members are eligible for a 15% discount toward annual memberships for the BIXI bike-share program for 2019. Click here for more information.
Cycling on the downtown campus
Members of the McGill community are encouraged to cycle to the downtown campus. There are approximately 200 bicycle racks and 1800 bicycle spaces.
Cyclists not destined for McGill should use the University Street bike path when connecting between Milton street and Sherbrooke or de Maisonneuve.
McGill's downtown lower campus is a shared space where cycling is permitted. This means mounted cyclists will circulate on the same pathways as pedestrians. Pedestrians will remain the primary users of this shared space and will have the right of way at all times. The new procedure does not affect McTavish Street, which is a public space under the City of Montreal's jurisdiction, where cycling remains prohibited.
For more information, please visit McGill's circulation page and the SAAQ's Safe Cycling Guide for Highway Safety Code requirements.
Bicycle racks on the downtown campus
Looking for somewhere to lock up your bicycle? Click here to view a map of the locations of bike rack on the downtown campus.
Please avoid locking bikes to...

railings/gates - it impedes the accessibility of the site by those with mobility impairments
trees - it can damage them
construction fencing - these must remain moveable at all times to provide an emergency exit for construction workers
Bicycle repair station
Located behind the Bronfman Building near McTavish Street, an outdoor bicycle repair station with a bike repair rack and to two manual tire pumps is available for use by students, staff and visitors to the downtown campus. The repair rack is made with 100% recyclable materials and is supplied with eight theft-resistant tools allowing cyclists to make minor repairs immediately and locally. For more information, please visit the Bike repair rack web page.
There is another bike pump installed outside of the McConnell Engineering Building, near the intersection of Milton and University Streets.
Macdonald Campus self-serve bikes
A small fleet of bicycles is available free to staff and students on the Macdonald campus, upon presentation of a valid McGill ID card. Bikes are available from 6am to 11pm, from April to October, and can be borrowed for up to three hours at a time. They are available at the Security Office in Laird Hall, room 101. For more information about the program, please click on the following link: Self-serve bikes for Macdonald Campus.
BIXI
Through its BIXI program, the City of Montreal offers public-use bicycles available at a variety of 24-hour self-serve locations across town. Bike rentals are available from April through November, and can be returned to any BIXI station. Rates start at $5 a day, and monthly and annual plans are available.
Visit the BIXI website for more information