Description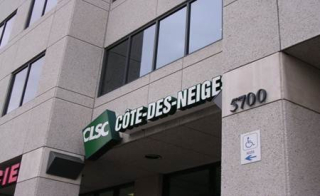 ---
LOCATION
Located in Montréal, in the Côte-des-Neiges area.
Special note to residents: Depending on which site they are assigned to, residents will work either in Côte-des-Neiges district, in dowtown Montréal or in Parc-Extension district (starting in 2014-2015).
Websites: CLSC Côte-des-Neiges, CSSS de la Montagne, Maison Bleue
---
LANGUAGE
• Spoken: English and French (+multilingual environment)
• Teaching : English
• Charting: English or French
---
GENERAL DESCRIPTION
The CLSC de Côte-des-Neiges was established in 1975. In 1986, an increase in the number of residents in family medicine was the impetus for Dr. Liliane Laporte from the Saint-Mary's Health Center (SMHC) and Dr. Michael Klein from the Montreal Jewish General Hospital (JGH) to establish formal links with the CLSC as training sites from residents in their units. This solved the need for both space and teachers. The Côte-des-Neige site was favoured for the JGH's residents and the Point de service Outremont site was favoured for residents from the SMHC.
The CLSC was already renowned for it's capacity for innovation. As an exemple, the first and only Maison de Naissance staffed exclusively with midwives was established under its jurisdiction.
In 1986, the first teachers were appointed in CLSC de Côte-des-Neiges. Among them was Dr. Vania Jimenez, who acted as residency coordinator from 1987 to 1991.
In 1991, it was decided that a new independent teaching unit would be created in the CLSC: the UMF Côte-des-Neiges. In 1992, Dr. Jimenez was appointed as the director of this new unit and the medical director for the CLSC, while Dr. Heather Rubenstein was named teaching coordinator. At this time, there were 8 residents in total.
In the last decade, the UMF gradually expanded from about 15 residents to 28 residents and 88 clerks in 2013-2014. A new site of the UMF was also spawned in CLSC Métro to admit a few more residents. It also expanded into a new facility specifically aiming at vulnerable pregnant women, La Maison Bleue.
Nowadays, Dr. Jimenez is the Director of professional and medical services for the Centre de santé et de services sociaux de la Montagne. Her position allows her to promote teaching in the three sites of the CSSS and to establish links between the UMF and other organizations.
The current mission of the CLSC is to offer first line medical care to the population. One of the key resources to attain this goal is knowledge. Indeed, teaching and research both complement the delivery of services.
The UMF plays a major role in this model as residents and clerks constitute an important addition to the offer of service. An expansion of the UMF in Parc-Extension is set to happen in 2014. Additionally, the presence of a teaching unit creates a dynamic environment in which evolution and cooperation are core values.
---
POPULATION
One of the most distinctive features of the CLSC Côte-des-Neiges is the population it serves. Mainly populated by immigrants, the Côte-des-Neiges district shelters people from a wide range of cultures. Thus, the resident must expect to be in contact with a immense diversity of situations, illnesses and problems. A lot of the UMF clients are considered as "vulnerable".
Residents are exposed to patients of all ages. We also have a strong refugee and asylum seekers clientele. Those are often very complex cases, but our medical and social teams are well trained to address this specific clientele. Thus, at their graduation residents have a strong experience in dealing with immigrant's issues.
Undergraduate Teaching
Student's activities:
Undergrad students will follow doctors and residents in their clinics, as well as having their own clinics. If they are paired with a doctor from the Suivi intégré de la femme enceinte (SIFE) program, they will experiment pre-natal care.
They will also be initiated to primary care by doing the walking clinics during daytime and, once per month, during the evening and on a saturday.
They will attend a vaccination clinic with a nurse and spend a half-day with one of the Groupe de médecine familiale (GMF) nurses, who are specialized in chronical diseases and mental health.
Undergraduates will be introduced to home care by spending one half-day with a doctor from the Soins aux personne âgées (SAPA) program and another one with a nurse from the Enfance-Jeunesse-Famille (EFJ) program. Additionally, they will work one half-day in palliative cares with Dr. Jean Zigby.
The UMF has a partnership with the Centre de réadaptation en dépendance de Montréal, a health facility whose mission is to improve the health and integration of people with alcohol, drug or gambling addiction. Undergraduates will have the chance to spend a full day with Dr. David Luckow, working with patients suffering from an addiction trouble.
They will also learn about social working and care to immigrants by following a social worker from the Programme régionnal d'intégration et d'acceuil des nouveaux arrivants (PRAIDA) during a half-day.
Finally, knowledge is one of the core values of the CSSS and we make sure that the clerks are kept up-to-date in their learnings. Thus, each wednesday afternoon, clerks will be apart of the academic half-day with the residents. They will have the opportunity to learn from lectures by doctors and residents. Another learning experience are the Practice Based Small Groups (PBSG). During the rotation, clerk are required to present a medical jourm=nal article at the Journal club.
Postgraduate Teaching
---
CAPACITY
• 12 trainees per period
---
CURRICULUM
• Horizontal (residents maintain a family practice three half days per week throughout the two-year program) 
To learn more on the postgraduate curriculum, click here
---
PARTICULARITY OF THIS TEACHING SITE
Residents can expect to meet patients from many different cultures and from all different ages and background. The Côte-des-Neiges clientele is renowned as a group with very diverse needs and problems. Hence, the graduate resident will leave the UMF with various experiences.
Residents who are interested in obstetrics and cares to vulnerable women may ask to complete some of their clinics in one of the two Maison Bleue. These facilities work in completely new interdisciplinary model with a holistic approach that combines prenatal care, obstetric care, pediatric care, social services and social activities.
Residents interested in immigrant issues may also request to follow a doctor from the Clinique des demandeurs d'asile et des réfugiés (CDAR). This clinic focuses on providing care to a very specific clientele : asylum seekers and refugees. These patients come from all around the world and their situation is often quite complex. Thus, they require a dedicated medical team with specific resources to match their needs.
Residents will be taught by many omnipraticians with specialization in fields such as genetic medicine, palliative care, clinical research or obstetrics. They will also work with a pedo psychiatrist and an ethno-pshychiatrist.
CSSS de la Montagne is fully dedicated to multidisciplinary teams. In the Côte-des-Neiges team, residents will collaborate with two practician nurses, three nurses and an auxiliary nurse.
Contact us
Address
Agrandir le plan
CLSC Côte des Neiges

 
Street Address
Mailing Address
CLSC Côte des Neiges: 5700 Côte des Neiges, Montreal 
Maison Bleue: 3735 Plamondon et 7867 Querbes, Montréal

CSSS de la Montagne, Family Medicine Unit
5700 Côte des Neiges,
Second Floor, Montreal, QC
H3T 2A8
WebSite:  CSSS de la Montagne , http://www.clsccote-des-neiges.qc.ca/, Maison Bleue
 CONTACTS:
 
Teaching Unit Director

Dr. Vania Jimenez

Postgraduate Teaching Director
Dr. Alexandre Motard
Undergraduate Teaching Director
Dr. Sarah Smith
Administrative Coordinator (postgraduate)

Fella.boudiaf.dlm

[at]

ssss.gouv.qc.ca

(Ms. Fella Boudiaf)

Administrative Coordinator (undergraduate)

ana.veiros

[at]

ssss.gouv.qc.ca

(Ms Ana Veiros)
Tel: (514) 731-8531, x2564
Fax:
(514) 380-5200
For Any questions regarding Curriculum, contact:
Interim Undergraduate Program Coordinator

undergrad.fammed

[at]

mcgill.ca

(Sheila Zoghaib)

Postgraduate Program Administrator

julie.lane

[at]

mcgill.ca

(Julie Lane)