Dana Nigrim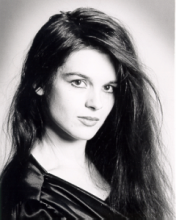 Biography:
Dana Nigrim has studied music and piano in Brasov, important cultural center of Romania, with rich artistic traditions where she grew up in a distinguished cultural and musical milieu, her grand father, Nicolae Grigore Mihaescu Nigrim, having been a known writer and her mother an appreciated dramatic soprano. Having grown in the opera milieu of her mother, she had the opportunity during all her youth to develop a deep knowledge of the voice repertory.
Through the quality of her playing, she has been awarded top prizes in the most important national piano competitions, affirming her reputation as one of the most talented Romanian pianists among the finest musicians of her generation.
She first came to public attention at age ten when she appeared as soloist with "Gheorghe Dima" Symphonic Orchestra of Brasov. In her career, she sustained numerous solo recitals across the country and concerts with the most important artistic directors and conductors of Romanian Symphonic Orchestras - Bucharest (Cristian Mandeal, Horia Andreescu), Cluj, Iasi, Sibiu, Bacau (Dan Chirila, Petre Sbârcea, Ion Baciu, I. Ionescu-Galati, Ovidiu Balan, Razvan Cernat, Hari Bela, Critian Ovidiu Neagu,), and conductors from Russia Leonid Nikolaev, Italy - Antonio Serrano, Germany - Wolfgang  Heuer, USA - JosephLysso, Koreea- Young Chill Lee,Canada – Louis Lavigueur, Cristian Gort, Jacques Lacombe), and won an enthusiastic audience as well as music critics appreciation.
During her intense musical activity, she built up a varied repertory, representative of different composers and styles. She appeared on Radio and Television in piano recitals and interviews, several broadcastings being dedicated to her musical parcours; she also became the Soloist of Brasov Symphonic Orchestra.
Her training includes a Baccalaureate in Solo Piano Performance  which she finished as the first in the series of graduates at the Music Lyceum of Brasov, a Master's in Interpretation Piano at the National Music Academy of Bucharest (First Prize in Interpretation Piano, Chamber Music and Theory of Music) with professors Ana Pitis and Ioana Minei, authors of significant works on piano interpretation, and a Doctorate from the University of Montreal with professor Gilles Manny who characterized her:
"Dana Nigrim belongs to the world of interpretation and possesses the charisma and the ability to give strong life to the musical works which she performs. I believe she is a multi-faceted artist, of a great versatility, who will have a career of first caliber as a pianist. She has a considerable repertoire and it is remarkable to listen in what a ease way and with what conviction she approaches different styles."
Pianist SMaria Juao Pires, who appreciated Dana Nigrim's "powerful talent and great musicality", recommended her for a two years training program with a bursary from the French Government; so she attained the Advanced Interpretation Course at the National Superior Conservatory of Paris with the pianist Theodor Paraskivescu (who, like Dinu Lipatti, was one of Nadia Boulanger's brilliant ancient students). In Paris, her musical personality and interpretation were noticed by the pianist François-René Duchable as well:
             "Listening to Dana Nigrim play works of Debussy, Ravel, Chopin and Schubert, I was very much impressed by the character she succeeds in giving to each of her interpretations. Her rhythmic rigor, her natural sense of the phrase, the quality of her toucher, her very solid technique; everything makes her a pianist able to approach all styles in the happiest manner."
Canadian composer John Rea, also noticed her "remarkable scope of musical interest and abilities. She is at once an energetic and subtle artist, comfortable with the classics as well as with more exploratory masterpieces of the early 20th century. She demonstrates the uncanny aptitude of being able to play in a variety of styles and genres while maintaining both the historical and authentic outlook of the musical work and, at the same time, reserving for herself the interpreter's privilege of performing one's own renditions, thoughtful reinterpretations that bring freshness to a familiar repertoire."
As concert soloist she performed concertos of Rachmaninoff, Chopin, Schumann, Grieg, Beethoven, Mozart, Haydn, Ph. E. Bach, J. S. Bach, her repertory also including concerts of Brahms, Tchaikovsky, Prokofiev, and Gerswhin among others.
 She has also given many chamber music recitals and collaborated  with reputed singers and instrumentalists: Quatuor Arthur LeBlanc (Canada), Quatuor Casal (Swizerland), Trio Berlani, Virgil Frâncu, Marc Simons, Liselyn Adams, and renown singers such as: Leontina Vaduva, Ruxandra Donose, Liliana Bizineche, Elena Vasilieva, Felicia Filip, Nathalie Choquette, Michel Ferrer, Louise Marcotte,Joe Kaiser, Julie Nesrallah, Dimitri Pittas, Andrew Tees, Claude Corbeil, Laura Pudwell, Susanna Eyton-Jones, Joanne Kolomijec, Eduardo del Campo, Franco Tenelli, Lyne Fortin and many others.
As a voice coach she worked at the musical preparation and staging of numerous opera productions in Lyrical Theatre of Brasov, Opera Bastille, École Normale and Opéra de Montréal (after having worked at Atélier lyrique).
She worked with  teachers from McGill Faculty of Music : Jan Simons, Bill Neill, Eduardo del Campo, Thérèse Sevadjan, Carol Gutknecht, Stefano Algieri,Sylvan Sanford, Winston Purdy, Bernard Turgeon, Michael Marrow, Robert Savoie, and from the Music Department of University Concordia.She collaborated with Albert Millaire and Andre Lachapelle (Order of Canada)in poetry and music performances as well as renown romanian actors (Ion Caramitru, Ovidiu Iuliu Modovan, Victor Rebengiuc).
She was official accompanist fro McGill, NATS, for Quebec  finalists at Canadian Music Competition, accompanist and coach. For Canadian Vocal Institute program, AIMS, Britten&Pears, Opera Nuova, Jeunesses musicales of Canada and many others.
 "Grieg's Concerto requires agile fingers and great sound power. Dana Nigrim possesses all these, besides a beautiful musicality."   La Presse - Claude Gingras
 "Dana Nigrim is an accomplished technician and a musician capable of real poetic feeling."  The Ottawa Citizen -  Richard Todd