Sean Alastair Ferguson
Academic title(s):
Associate Professor, Composition. Co-Director, McGill Digital Composition Studios.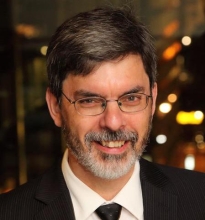 Area of expertise:
Instrumental and mixed composition, computer-assisted composition, traditional music of the Celtic nations, creative applications of music technology (digital signal processing, gestural controllers for digital musical instruments, real time computer interaction, etc.), musical applications of symbolic computation, incorporating psychoacoustics and music cognition into the compositional process.
Biography:
Sean Ferguson was born in the remote Northern-Alberta community of Fort Vermilion. He has lived in Montreal since 1990, where he studied composition at McGill University. His fascination with the mechanics of perception have led him to carry out extensive research in psychoacoustics and to incorporate these findings into his compositional language. The computational demands of these psychoacoustic models has also sparked his interest in computer-assisted composition.
His instrumental works include Inside Passage for piano and large ensemble (1999), Marées-Strates-Envolée for solo piano (1994-99), Apocryphal Graffiti for chamber orchestra (2000), Heiligenstadt for string orchestra (2001), Corranach for flute, cello and piano (2002), and In the Flesh, for large orchestra (2003). Ensembles that have performed his music include the Philharmonic Orchestra of Radio-France, the Montreal Symphony Orchestra, the Société de musique contemporaine du Québec, Les Temps modernes de Lyon, I Musici de Montreal and the Ensemble contemporain de Montréal, among others. He has also composed a number of mixed works for live performers with technology, including Vox Machina for soprano, chamber ensemble and multi-channel audio (1993), and Conversations for violin, clarinet, percussion and interactive computer system (1999).
From 1997-2001 he was a counsellor of the Société québécoise de recherche en musique, for whom he was the artistic coordinator of three different week-long festivals of Quebec music. From 1999-2009 he was a member of the artistic committee of the Société de musique contemporaine du Québec. Sean Ferguson teaches electroacoustic and instrumental composition, orchestration, the history of Canadian and electroacoustic music, and a graduate seminar in musical applications of symbolic computation. He has also given a seminar in gestural controllers for new digital musical instruments jointly with Professor Marcelo Wanderley of the Music Technology Area and D'Arcy Gray of the Percussion Area.