2017 SURE prize winners        
Faculty prize winners:
Category: Advanced Materials and Nanotechnology.
Tim Ryan,  Trinity College Dublin
Supervisor: Nathalie Tufenkji
Category: Advanced Materials and Nanotechnology.
Joseph Lu , Department of Mechanical Engineering
Reconfigurable Materials with Tailored Thermal Expansion for Aerospace
Supervisor: Damiano Pasini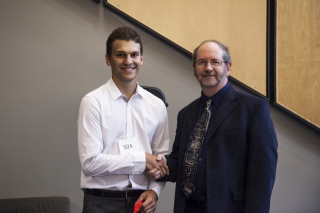 Category: Aerospace 
Jonathan Arsenault, Department of Mechanical Engineering
Payload Recovery from High Altitude Using Autonomously Guided Parafoil
Supervisor: James Forbes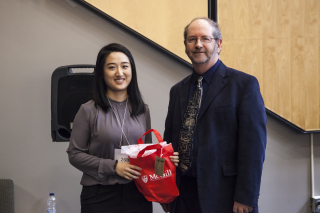 Category: Bioengineering and Biotechnology
Tianshuang (Sarah) Qiu, Department of Mechanical Engineering
Parallel Computation & Bacterial Tracking in Micro-fabricated Networks
Supervisor: Dan Nicolau
Category: Bioengineering and Biotechnology
Nikita Kalashnikov, Department of Chemical Engineering
Shape-shifting tissues:  programmable tissue constructs with integrated shape memory actuators
Supervisor: Dan Nicolau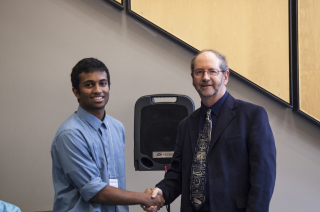 Category: General and Multidisciplinary
Vishesh Pradeep, Department of Mechanical Engineering
Untethered Paper Based Wall Climbing Robot
Supervisor: Xinyu Liu
Category: Information and Communication Technologies 
Yu Chen Xu,  Department of Electrical & Computer Engineering
Supervisor: Odile Liboiron-Ladouceur
TISED prize winners: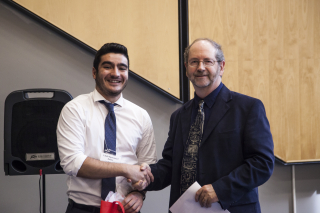 Category: Energy, Natural Resources and Sustainable Infrastructure
Labib Emmanuel Kallas,  Department of Civil Engineering
Lowering NOx Emissions by Optimizing the Mixing Quality Across a Perforated Plate
Supervisor: Susan Gaskin
Category: Society, Design and Technology 
Isaac Berman,  Department of Electrical & Computer Engineering
Supervisor: James Clark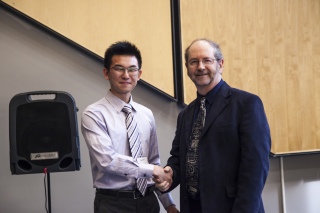 Category: Water & Environment 
Kuan Wei,  Department of Chemical Engineering
Supervisor: Nathalie Tufenkji
---
SURE 2017 Participants
 
What is SURE?
The Summer Undergraduate Research in Engineering program offers summer research traineeships valued at a minimum of $5,625.  A portion of these traineeships are available through the NSERC Undergraduate Summer Research Award (USRA) program, while the rest are funded through the Faculty of Engineering, the Trottier Institute for Sustainable Engineering and Design (TISED), and by generous donations to the Faculty.

SURE students work closely with a McGill Engineering professor on one of their research projects for 16 weeks in the summer. The program provides exposure to the research experience as well as opportunities to learn more about the graduate school experience and about careers in research.

NEW! We are pleased to announce that the participation in the SURE program will now be recorded on students' transcripts. Specific courses (FACC 351-354 – SURE Experience) have been created to offer students an official record of their participation in the SURE program.

The traineeships funded through the Faculty of Engineering are available to all eligible McGill undergraduate students irrespective of their citizenship or immigration status and to a limited number of students external to McGill, both Canadian and international. If selected, non-McGill students will be expected to obtain the appropriate visa documents and insurance found at Citizenship and Immigration Canada. They will also be required to register at McGill as an Undergraduate Research Trainee (UGRT). Please find more information about UGRT here.
General Information
Contact Information: MESC FDA22 or SURE-Info.Engineering [at] mcgill.ca (Email)
Application
Award decision were sent out on February 17, 2017. Please note that due to the large volume of applications received, only selected SURE candidates were contacted. Positions of students who decline their offer will be filled at the beginning of March.
SURE Events
Event: 'How to Apply to SURE Information Session'
Date: Tuesday Jan 16, 2018
Location: McConnell 13
Time: 11:35 am - 12:55 pm
Anyone interested in applying for SURE 2018 must attend this information session. Please register via MyFuture (under "Workshops", keyword search: MESC).
Event: SURE Orientation
Date: Thursday, May 3, 2018
Location: Trottier Building, 2nd floor lobby
Time: 12pm ‐1pm
Event: SURE Research at Work Seminar
Date: Thursday, June 7, 2018
Location: Trottier Building, room 0100
Time: 1pm to 2:30pm
Event: SURE Poster Design Workshop
Date: Thursday, July 5 , 2018
Location: Trottier Building, room 0100
Time: 2pm to 4pm
Event: SURE Poster Presentation
Date: Thursday, August 9, 2018
Location: Trottier 2nd Floor Lobby, Trottier Cafeteria
Time: 1pm to 4pm
Printing Instructions for Poster Presentation
Previous SURE Prize Winners
Frequently Asked Questions
The Summer semester at my University is less than 16 weeks.  Can the SURE program be shortened to accommodate my schedule?
Unfortunately, to be eligible for the SURE program, students MUST be able to commit 16 weeks of full-time work.  If your summer is shorter, you may wish to explore the possibility of working in a lab independently of the SURE program.  For independent undergraduate research, the student is responsible for finding a research supervisor and registration as an Undergraduate Research Trainee
What if I don't have 3.0 CGPA?
As SURE is considered to be a scholarship/award, only students having a CGPA of 3.0 or higher will be considered. If you do not have a CGPA of 3.0, you may apply to work with your professor independent of the SURE program.  International/External to McGill students should refer to the Degree Equivalency website for North American GPA equivalencies.
How do I know if I qualify for a professors' research area?
Seek out the professor and discuss your candidacy with him/her; you don't know until you try.
Is there a formal way to contact the professors?
You can contact a professor by email to book an appointment or visit them during their office hours. Non-McGill students may contact the professor via email or telephone as an appointment would not be necessary. Please note that the SURE Administration Office cannot contact professors on behalf of students.
Where do I submit my application form?
The application must be completed online and printed. Printed application forms and your Official Transcript must be submitted directly to the professor. Deadline:  January 27, 2017. Non-McGill students may submit their application and supporting documentation by email directly to the professor.
What is length of program and how much work is involved per week?
SURE starts in May and lasts 16 weeks and you can expect to work a full work week of approximately 35 hours.
Do I get vacations/days off?
You can make arrangements with your supervisor to take time off and make up the hours at another time. ie. Working an extra hour a day or coming in on a Saturday.
If I decline the Offer of Award, will I be eligible for another research project?
Applicants will only be selected for one award (therefore, please ensure that you would be equally willing to work on any of the projects you apply to).  If you decline your Offer of Award, it is because you no longer wish to participate in the SURE Program and you will not be selected for other SURE projects in the same year. You are eligible to apply again in the following year.
Can I submit additional paperwork, ie CV?
The only required documents are the printed application form and transcript. Note, however, that you may be required to submit other documents to the professor along with your application
I graduate in May, am I still eligible?
Yes, you can apply up to a year after graduation.
How will I be notified that I have received a SURE?
The first round of acceptance emails will be sent by mid-February.
Can graduate students apply?
SURE is available to undergraduate students only.
Are we taxed?
This is a scholarship, therefore, you are not.
How do I know how much my supervisor is paying me?
The SURE award is valued at $5,625.00 however, you may discuss directly with your supervisor.
What kind of visa is required for non-McGill students?
International students are required to research the visa requirements at: http://www.international.gc.ca/experience/ or http://www.cic.gc.ca/english/index-can.asp. Students without the appropriate visas will not be paid.  Please note: The University is unable to provide a Human Resources Development Canada authorization (i.e. Labour Market Opinion) to support visa applications.
My University's semester ends after May 1. Can I apply for SURE?
Students are encouraged to discuss slight changes to the start and end date of their SURE project with their supervisors. As long as you are available for the full 16 week period, slight changes may be accommodated for external students.
Is the SURE Program available year-round?
The SURE Program is offered in the summer (May-August) only. If you wish to work in a lab throughout the rest of the year, you must arrange to do so directly with your intended supervisor. International students should review the requirements for McGill Undergraduate Research Trainees at www.mcgill.ca/students/records/trainees.


 
---
The SURE experience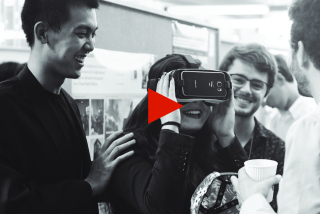 Young minds at McGill Engineering can rub shoulders with some of the world's leading thinkers through paid summer internships at McGill labs and research institutes. SURE gives Faculty of Engineering undergrads an opportunity to learn the finer points of graduate work, or eventual careers in research.
Click HERE for photos from the 2017 SURE Poster Presentation Fair